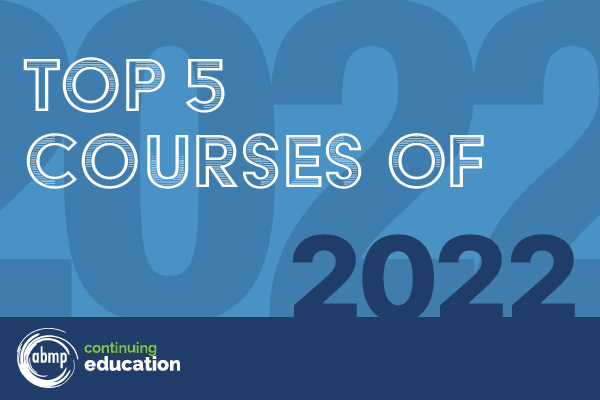 This was another exciting year for continuing education at ABMP! We provided two online ABMP CE Summit events—free for everyone in the profession—focused on fascia and lymph and added new CE courses to the ABMP Education Center on aromatherapy, anatomy/pathology, business, ethics, self-care, teaching, and techniques.
"ABMP strongly believes in the value of continuing education and it's an honor to provide events and courses for practitioners to enhance their professional and personal skills," says Kristin Coverly, ABMP's director of professional education. "Learners earned more than 145,000 hours of CE in the ABMP Education Center in 2022. It's exciting to think of the ripple effect that knowledge will have on their practices, clients, and the profession."
2022 Top Five Courses
In no particular order, these are the top 5 ABMP CE Courses for 2022:
• "A Combined Approach: Hands-On and Cupping Techniques for Neck Fascia" by Allison Denney and Dr. Joi Edwards
Learn hands-on and cupping techniques focusing on the sternocleidomastoid, levator scapulae, and scalene muscles.
• "Blood Clots: Causes, Concerns, and Considerations" by Ruth Werner
Explore the pathophysiology of thrombosis and clinical decision-making.
• "Ethics: Create a Zero-Tolerance Practice" by Joyce Gauthier
Identify and deter sexual solicitors.
• "Fascia Fundamentals: What Every MT Needs to Know" by Rachelle Clauson and David Lesondak
Understand fascia: what it looks like, its role in the body, and the different types.
• "Manual Lymphatic Drainage: Basic Techniques for the Neck and Face" by Nicola McGill
Discover gentle, yet effective manual lymphatic drainage sequences for the neck and face to support the movement of lymph fluid.
Additional ABMP Courses Added in 2022
• "A Massage Therapist's Guide to Long COVID" by Ruth Werner
• "Cornerstones: The ABMP Instructor Development Program" by Anne Williams and Cindy Williams
• "Cupping and the Lymphatic System" by Paul Kohlmeier
• "Embodied Lymph: A Movement Practice for Lymph Flow" by Ann Teachworth
• "Expand Your Practice" by Diane Matkowski
• "Fascia: Updating our Approach" by Whitney Lowe and Til Luchau
• "Fascial Anatomy: How Microscopic Images of Fascia Inform our Understanding" by Gil Hedley
• "Introduction to Manual Lymphatic Drainage" by Nicola McGill
• "Lymphatic Systems: An Essential Guide to an Underrated System" by Ruth Werner and Megan Belanger
• "Soul Scents: Aromatherapy for the Spirit" by Anne Williams
The ABMP Education Center, where ABMP members earn free CE, is home to 750+ online massage and bodywork CE hours. These on-demand courses are available for nonmembers to purchase as individual courses or in discounted multicourse packages. Our video-based online course format allows you to learn and earn CE wherever and whenever it's most convenient for you. Find a course you'll love in the ABMP Education Center.