You're Invited! ABMP CE Socials Event
Connect and engage with your massage and bodywork community, experts in the field, and ABMP as you learn and earn CE! Join us live in our virtual classroom to interact with course instructors and learn valuable new tools for your practice.
These interactive experiences—and CE—are free for everyone in the profession!
Missed the ABMP CE Socials event?
Want to view the course again?
Visit the ABMP Education Center to start learning and earning CE today!
UPCOMING EVENTS
Join us at the ABMP CE Summit: Sidelying on Tuesday, October 3, 2023! Demystify the sidelying position and learn incredible techniques for the shoulder, back, and hip during this online event featuring Allison Denney, The Rebel MT. This event—including 3 hours of CE—is free for everyone in the profession!
SCHEDULE
Typical ABMP CE Socials Event Schedule
10:00 a.m. – 11:00 a.m. MDT: CE course with typed community chat and instructor Q&A chat
11:00 a.m. – 11:30 a.m. MDT: Live Q&A with the presenter
All times listed are for the mountain time zone.
The event starts at 9 a.m. PT | 10 a.m. MT | 11 a.m CT | 12 p.m. ET
Check your time zone.
Event Information
Interact with the Presenters
During each ABMP CE Socials event, you'll have the opportunity to submit questions to the presenter in the chat room. Take advantage of this opportunity to interact with and ask questions of your mentors! After the course, the instructor will be with you via video feed for a live Q&A session.
CE Credit
All attendees—ABMP members and nonmembers—will have the opportunity to earn CE credit for the course by passing a short online quiz. CE certificates will be available after the event in the ABMP Education Center.
Frequently Asked Questions
What if I register, but am not able to attend the live event? Will replays and CE credit be available after the event?
ABMP members: Yes, the course featured during the ABMP CE Socials event will be added to the ABMP Education Center after the event for you to view and earn CE. You will not, however, have the opportunity to interact with the presenter during these viewings as you will during the live event.
Nonmembers: You will have the opportunity to purchase the course—and earn CE—in the ABMP Education Center after the event.
How do I access my CE certificate of completion?
Your CE certificate of completion will be available on your My CE Transcript page in the ABMP Education Center within 48 hours.
Sponsors
Thank you to our generous event sponsors!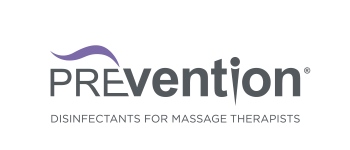 Prevention Disinfectants are EPA-registered, hospital-grade products formulated for massage practitioners and beauty and wellness professionals. Prevention Wipes and Prevention Spray offer the fastest, safest, and easiest disinfecting solution with the ability to kill viruses, bacteria, and fungi in only one minute. Powered by Accelerated Hydrogen Peroxide, Prevention delivers superior effectiveness without compromising the safety of the user. New Prevention Refill Wipes, the first in the industry, reduce plastic waste by up to 90 percent and are cost-effective. Prevention products are perfect for use on massage tables, face cradles, stones, cups, and other hard, non-porous surfaces and equipment. Have everyday confidence with Prevention Disinfectants!
PRIZE GIVEAWAY: Event attendees will have the chance to win a case (12 canisters) of Prevention Wipes! Retail value $179.40. Learn more about Prevention Wipes.
Visit the ABMP member discounts page to take advantage of savings from our PPE and sanitation product partners!
Ask ABMP
If you have any questions, please contact us! We love hearing from our members:
Email us at expectmore@abmp.com
Call us at 800-458-2267
Previous ABMP CE Socials Events
February 24, 2021: "Introduction to Oncology Massage: Part 1" with Healwell's Cal Cates and Kerry Jordan
March 23, 2021: "Assessing and Treating Tennis and Golfer's Elbow" with Dr. Joe Muscolino
April 28, 2021: "A Website That Works" with Massage Business Blueprint and sponsored by Lokalyst
May 27, 2021: "Centering Diversity, Inclusion, and Equity in Our Practices" with Shana Chivon
June 22, 2021: Movie Night: "Touched: A Massage Story" by filmmaker Chandler Toffa and ABMP member Jonathan Grassi
August 26, 2021: "Blood Clots: Causes, Concerns, and Considerations" with Ruth Werner and sponsored by Lokalyst
August 29, 2023: "Hygiene: Critical Updates for Massage Therapists" with Ruth Werner and sponsored by Prevention Disinfectants
Keep Learning
Visit the ABMP Education Center to learn and earn CE. With over 750 hours of CE available, we're sure you'll find a course you're excited about!