Transform your classroom with Cornerstones: The ABMP Instructor Development Program, a new library of interactive CE courses for massage and bodywork instructors.
Cornerstones course access is free for all ABMP members and for any instructor who works at an ABMP Premier School. The Cornerstones course package is available for $250 in the ABMP Education Center, where individual courses can also be purchased for $30. If you are an instructor who needs to update your account for access, please email education@abmp.com.
We know the massage and bodywork community is full of passionate instructors possessing caring hearts and expert hands-on skills who give their all to students, but so many are often trained in the "trial by fire" method. Cornerstones gives these instructors a well-researched, comprehensive training program they can easily complete online, on their own schedule, and at no cost to them or your school.
For your top instructors, Cornerstones may be a refresher about best instructional practices. For the less experienced teacher, Cornerstones is a life raft: a 25-hour intensive opportunity to learn the core skills needed to teach effectively.
Get started now in the ABMP Education Center, or read on and watch the video to learn more about how Cornerstones can benefit you, your school, and your students!
How Does the Cornerstones Program Work?
Cornerstones is made up of numbered courses sequenced to create a holistic, scaffolded library in order to build stronger learner retention and understanding. In addition, courses are also categorized in case you need instruction on an immediate issue, like help with classroom disruptions or writing lesson plans for a new cohort.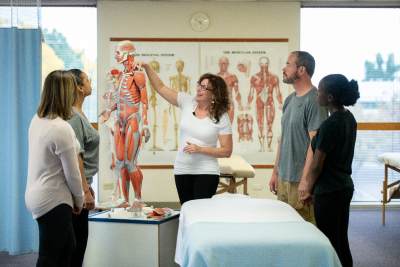 Instructors who go through the program will:
Employ best practices for classroom management, curriculum development, and more.
Structure course material effectively to increase student comprehension.
Develop the competencies needed to keep adult students engaged.
Examine what science tells us about how the brain learns, including researched methods of input, assessment, and feedback.
Practice a holistic teaching approach involving the mind, body, and emotions.
Master the most critical piece—why learning must be structured and intentional.
Click on any course below to view it in ABMP Education Center where you can log in or create a free account to start your Cornerstones journey!
Course Curriculum:
Prerequisites
1: The Noble Heart of Teaching—Keynote (1 CE hour)
2: The Place to Start (1 CE hour)
3: Instructor Competencies: Best Practices for Educating Adult Learners (1 CE hour)
Dynamics of Adult Learning
4: The Evolution of Adult Learning Theory (1 CE hour)
5: Understanding Adult Learners—Choosing Instructional Methods that Motivate (1 CE hour)
Core Instructional Design
6: Tools and Principles of Instructional Design (1 CE hour)
Learning Experiences
7: Creating Exceptional Learning Experiences—Lectures (1.5 CE hours)
8: Creating Exceptional Learning Experiences—Discussions (1.5 CE hours)
9: Creating Exceptional Learning Experiences—Demonstrations and Exchanges (1 CE hour)
Student Assessment
10: Formative Assessment (1 CE hour)
11: Summative Assessment in the Cognitive Domain (1 CE hour)
12: Summative Assessment in the Psychomotor Domain (1 CE hour)
Instructional Organization
13: Instructional Scaffolding—Supporting Your Students with Structure (1 CE hour)
14: Syllabus and Lesson Planning—Putting it All Together (1 CE hour)
Feedback and Evaluation
15: Core Principles of Developmental Feedback (1 CE hour)
16: Evaluating Instructional Quality (1 CE hour)
Classroom Management
17: Overcoming the Challenges of Modern Classroom Management—Exploring Student Behaviors (1 CE hour)
18: Overcoming the Challenges of Modern Classroom Management—Reducing Classroom Disruptions (1 CE hour)
Application and Implementation
19: Teaching Career Development—Igniting a Vision of the Future (1 CE hour)
20: Teaching Movement and Body Mechanics—Guiding the Body in Motion (1 CE hour)
21: Teaching Palpation Skills—Bringing the Mind into Learners' Hands (1 CE hour)
22: Student Clinic as a Learning Experience (1 CE hour)
23: Adapting to the Digital Classroom—Building the Essential Skills of Modern Teaching (1 CE hour)
24: Weaving Emotional Intelligence into Massage Therapy Curriculum (1 CE hour)
The Cornerstones Development Team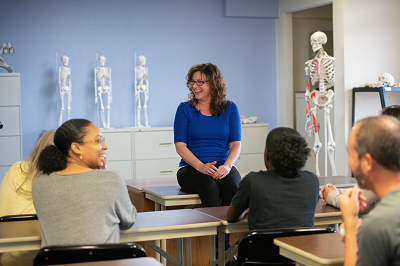 The Cornerstones development team includes lead content and curriculum designer Cindy Williams, who has been immersed in the massage and bodywork profession since 2000 as a practitioner, school administrator, instructor, curriculum developer, and mentor. She has experienced the challenge and triumph of creatively motivating artful students to embrace science and structure. Her administrative experience allows her to understand the needs of school owners, directors, and instructors. She is a freelance content writer and educational consultant, in addition to maintaining a part-time massage and bodywork practice.
The rest of the team includes video/audio engineer Matt Barnes, and project manager/editor Karrie Osborn. Additional contributors include former ABMP Director of Education Anne Williams and curriculum writers Renee Belisle and Jenn Doe. Special thanks to the Colorado School of Healing Arts for the use of their beautiful facility throughout many of these courses.
---
Want More ABMP Resources for Educators?
Contact our team at education@abmp.com to discuss how ABMP can benefit you, your school, and your students.