Thank You to Our 2022 ABMP School Forum Attendees!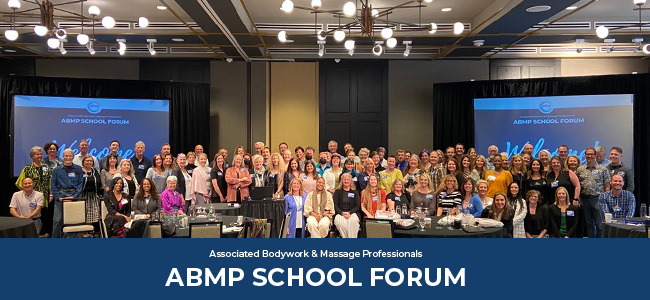 It was so inspiring to join our school community and the many amazing sponsors who participated in the 2022 ABMP School Forum!
We encourage you all to continue sharing the word that all instructors have free access to Cornerstones: The ABMP Instructor Development Program through April 2023.
Stay tuned for more details about the 2023 ABMP School Forum. In the meantime, here are some of the things that this year's attendees had to share:
"It's a must to attend an ABMP School Forum and see what others are doing, not doing, why, and most importantly to know that you are not alone. It's great to have support and more knowledge in the field we have chosen." —Lisa, Keplinger Institute & Ivy Tech Community College
"The ABMP School Forum was a game-changer type of conference. Meeting the people that are behind ABMP's educational team and others was amazing and really made me feel as if someone is out there who cares and wants to help our schools be the best!" —Renee, Chattanooga State Community College
"At our school, we live by the motto 'Collaboration, Not Competition'. This forum is the perfect epitome of this in action. Not only did we learn from presenters, we learned from each other. You could almost feel the growth that was happening in the room." —Michelle, ASIS Massage Education
"Attending the School Forum was an informative and inspiring experience. It was great to network with other professionals who passionate about the world of massage therapy. The speakers were very educated and provided a lot of valuable information for the attendees." —Selene, American Institute
"The 2022 ABMP School Forum was just what my massage soul needed. It was welcoming, informative, open to various viewpoints, extremely supportive, and fun. I made so many connections I did not expect to make. It was a heartfelt event that also gave me knowledge and tools to develop to become more proficient and do my job better. Lastly, spending time with ABMP reminded me of what a professional and well-run organization I'm affiliated with. I could not be more proud or have more confidence in my choice to be a member." —Michelle, Lincoln Tech-Moorestown
"This forum changed the way we will operate in the future. I was not inspired by the topic names when I signed up but mostly wanted to network with other schools. I was completely surprised by how enlightening the topics actually were. The presenters did an excellent job and the information was applicable. It was well worth the time and expense of attending. I look forward to the next one." —Amy, Kentucky School of Massage
"This year's ABMP School Forum has really changed my life! I was able to feel less isolated, more connected, and part of the bigger picture, and was also able to meet some wonderful support people who made us all feel as if we were vitally important and part of the bigger picture of massage therapy in the United States!" —Jeremy, Healing Mountain Massage School
---
Thank You to Our Sponsors!
You can see all of our amazing sponsors, enter exclusive giveaways, and watch educational videos and connect with their offerings at www.abmp.com/abmp-school-forum-sponsors.