I hate to say it out loud, but the holiday season is upon us!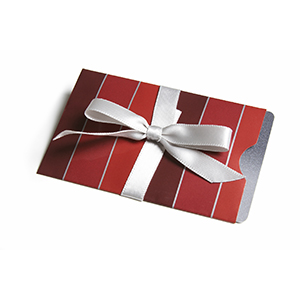 Now is the time to start planning for your holiday gift certificate sales, and here's an idea to promote yourself to the community—rent space at local holiday gift bazaars or craft shows held throughout November and December. Why not spend a day selling gift certificates for your services in these venues that are already filled with people eager to find new gift-giving ideas? You could even offer short chair-massage sessions to these busy shoppers as another way to create interest in your services.
Booth/table rentals at these events can range from $20 to several hundred dollars, depending on the size of the bazaar and the expected foot traffic. Use your table to not only describe your services and convey your marketing messages, but have plenty of business cards on hand and consider displaying/selling sample products, too. Make sure your gift certificates fit the bill for this crowd—have a selection of high-quality envelopes and pretty ribbons to turn them into a fun visual gift as well.
—Karrie Osborn, Senior Editor
Check out these other resources on how to sell gift certificates:
"How I Learned to Love Gift Certificates"
"11 Ideas to Sell More Gift Certificates"
Are you an ABMP member? Then check out this resource already available to you: Create your own gift certificates.
Want more options?
ABMP members receive 50% off all set-up fees and advertising solutions with TheGiftCardCafe.com. Check your ABMP member discounts page for more info and coupon codes.