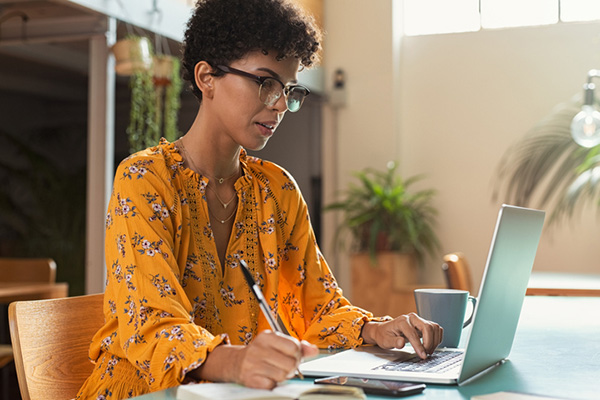 It goes without saying that 2020 was a difficult year, and one of the ways that ABMP members kept engaged in the profession was by taking online CE courses in the ABMP Education Center (www.abmp.com/ce).
In fact, more members took more courses in 2020 than any prior year. ABMP members now have access to hundreds of hours of massage CE, available on demand and at no charge, and nonmembers can purchase individual course access at www.abmp.com/ce.
These were the most popular new massage CE courses this year:
This course was featured during the 2020 ABMP CE Summit. The neck is home to a lot of moving parts and a host of frustrating dysfunctions, but perhaps the most frustrating of all is the general neck pain that accompanies the stressors of life. The most common complaint from clients is the neck pain that seems to have an elusive onset and no resolve. Join Allison Denney for this fun-filled course including muscles painted on the client's body, her favorite neck techniques, and approaches that work to alleviate clients' pain.
This course was featured during the 2020 ABMP CE Summit. COVID-19 presents unprecedented challenges to the massage therapy profession. In this course, pathology expert Ruth Werner focuses on what we currently understand about COVID-19, including the pathophysiology, communicability, and the many complications of this infection. Werner discusses how to make safe, effective, evidence-informed decisions, and shares client-screening suggestions for safety.
This course was featured during the 2020 ABMP CE Summit. Pain in the sole of the foot can be a vexing issue for massage and bodywork practitioners. Join Til Luchau and Whitney Lowe as they share current insights about relevant anatomy, research, mechanisms, assessment, strategies, and hands-on techniques for effective work with this very common condition.
This course was featured during the 2020 ABMP CE Summit. Join Healwell's Cal Cates and Kerry Jordan for a thoughtful discussion exploring the benefits of modifying our definitions of boundaries, serving, and what it means to be a health care partner. Throughout the course they share tools to expand your awareness and develop helpful habits to navigate impermanence and show up to suffering without taking on suffering.
Join Til Luchau for an engaging course in hands-on approaches for caring for our own hands, and our clients' hands. Drawing from the Advanced Myofascial Techniques (AMT) series, this course combines key hand concepts, dynamic anatomical graphics, hands-on technique demonstrations, and research findings. Topics include using the hand/brain connection; myofascial, articular, and interstitial approaches; touch tools for pain and local inflammation; and techniques for improving hand mobility, sensitivity, and stability.
This course was featured during the 2020 ABMP CE Summit. This course provides four complete mini sessions, from BodyReading (visual assessment) to treatment strategy to technique. Learn techniques for balancing the myofascia of the shoulders, arms, and hands, from Anatomy Trains author Tom Myers. Human arms require a complex equation of stability versus mobility to balance correctly on the rib cage and spine. Problems in the shoulders can, over time, travel down into the arms and hands or up into the neck and jaw. Learn to recognize "ideal" and compensated patterns and how to tie them into the story of the rest of the body. Learn to really "see" what work needs to be done to create lasting results for your clients.
This course was featured during the 2020 ABMP CE Summit. More than ever, the ability to recognize and address trauma in clients—and ourselves—is paramount. Gain an understanding of what trauma is, how to identify its signs, and how to follow the "dos and don'ts" when working with trauma. Learn to work effectively and safely with clients experiencing trauma and empower them to use your bodywork session as a tool in their healing process.
This course was featured during the 2020 ABMP CE Summit. We are neurobiologically wired for connection. We are also living through monumentally challenging times personally, professionally, and nationally. In these times of deep uncertainty, join Brené Brown certified Dare to Lead facilitator Amy Andrews McMaster to explore how to connect to ourselves and to others in ways that fill our deepest needs, and how to have brave conversations even when we can't control the outcome. We will remember that accepting and regulating our own emotions strengthens the ability to recognize and honor the emotions of people we love and long to help.
Join scar tissue experts Nancy Keeney Smith and Cathy Ryan for an informative introduction to wound healing, scar tissue formation, and a massage therapist's role in scar tissue management. Learn the foundational science of scars, fascia, connective tissue, and the lymphatic system as well as the aspects and contributing factors of normal and abnormal wound healing. This is the first course in a series of three courses.
Learning how to mind and manage your money is one of the most valuable skills for a small business owner to develop. Financial literacy is essential in moving from being a hobbyist to being a professional and earning a living doing the work you love. Join Allissa Haines and Michael Reynolds of Massage Business Blueprint to learn how to manage your business finances, make more money, and plan for your financial future.