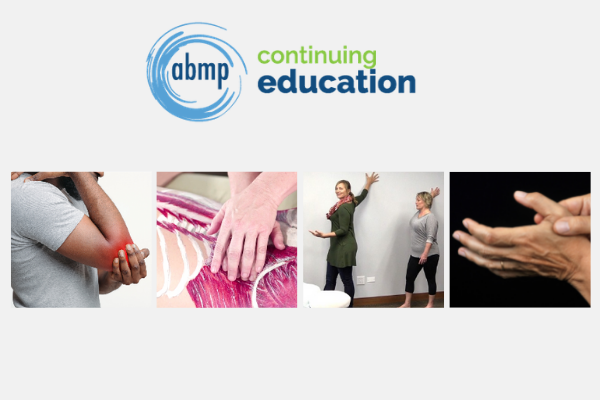 With the combination of many COVID-19 restrictions being lifted and the weather becoming warmer, clients are more likely to be participating in activities that may result in needing some extra care.
An increase in care for clients cannot come without an increase in care for ourselves. Last month during Mental Health Awareness Month, we focused on mental well-being and self-care. This month we want to emphasize the importance of physical self-care. June's CE highlights will help you be prepared for your clients' extra needs as well as your own!
Assessing and Treating Tennis and Golfer's Elbow
Join Dr. Joe Muscolino for a comprehensive course on assessing and treating two common repetitive-use conditions: tennis elbow and golfer's elbow. Learn the possible causes, participating anatomy, assessment tools, massage techniques, and stretching protocols for each of these challenging pathologies. Learn More about Tennis and Golfer's Elbow
A Detailed Approach to Low-Back Pain
Join Allison Denney of Rebel Massage for a webinar that takes an in-depth look at the muscles, structures, and common dysfunctions of the lumbar region. Explore examples of how each of the three common low-back issues—overuse injuries, muscles strains, and trigger points—occurs and learn practical treatment approaches you can use with your clients. Learn More about Low-Back Pain Treatments
Self-Care for Your Wrists and Upper Body
Save your wrists! Join instructor Sunny Klaber for a dynamic self-care webinar that focuses on career-saving wrist and upper-body techniques. Follow along as she guides you through exercises to enhance your strength, balance, and stability. Learn More about Wrist and Upper Body Exercises
Myofascial Techniques: Hands-On for the Hands — $5 CE Feature!
This course is currently only $5 for nonmembers during the month of June.
Join Til Luchau for an engaging course in hands-on approaches for caring for our own hands. Drawing from the Advanced Myofascial Techniques series, this course combines key hand concepts, dynamic anatomical graphics, hands-on technique demonstrations, and research findings. Learn More about Myofascial Techniques
Check out more courses in our CE Center:
Courses are free for ABMP members and available for purchase to nonmembers.