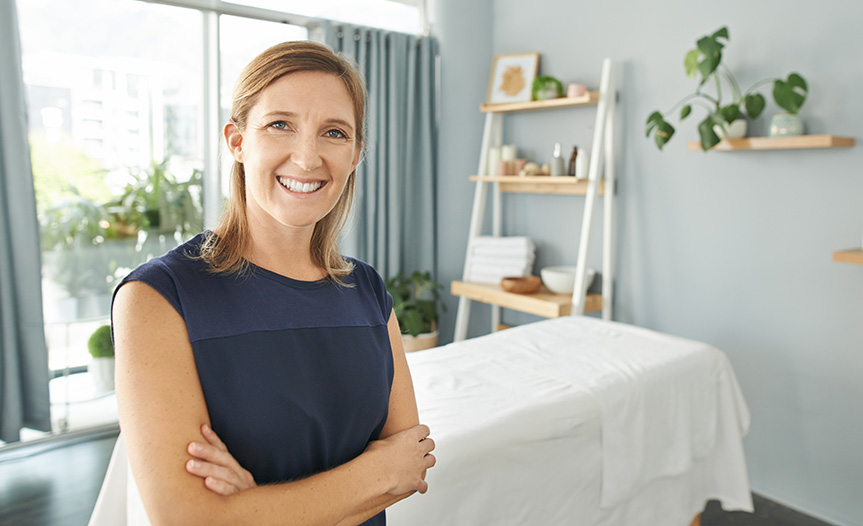 ABMP goes above and beyond to help our members succeed, bringing you the insurance you need, the free CE you want, and the personalized benefits and service you deserve.
Members expectmore, and get more, because ABMP membership is specifically tailored to the needs of massage therapists and bodyworkers. Our goal is to pack as much value into a membership as possible, and whether it's free CE, 50+ money-saving discounts, or practical hands-on tools like ABMP Five-Minute Muscles, our benefits are designed for you to use right now to help your practice.
"I am continually impressed to the hilt with the services and benefits ABMP provides its members, thereby raising the bar (and increasing public awareness of the importance of bodywork) for our entire profession in the process. Thank you, ABMP staff and members."
—Marlys, ABMP member
The fundamental benefit of ABMP membership is providing professional liability insurance you can trust.
ABMP members have individual coverage, so all policy limits are yours and not subject to a master policy limit like AMTA. In an accident you call us first, not an insurance company—we don't leave you to face a difficult situation alone. There's no upcharge for Additional Insured Endorsements, and you can even add optional Business Personal Property insurance to protect your equipment. Simply put, you can trust that you're taken care of with ABMP. If you're interested in learning more about the "why" behind the coverage included with ABMP insurance, read this message from ABMP president Les Sweeney.
"I recently switched from AMTA and WOW. Love it. Not a thing I thought I would ever say about my insurance or professional organization. I'm so glad that I switched!"
—Nicole, ABMP member
The reason ABMP members love membership is because it is more than just insurance. Here are some of our members' other favorite things about ABMP membership:
With ABMP, Your CE is Free!
ABMP membership includes 200+ on-demand courses with free CE at www.abmp.com/ce, and ABMP Certified and Associate members get access to the entire World Massage Conference CE Library, more than 600 hours of online education.
Groundbreaking Hands-On Apps
ABMP Five-Minute Muscles and ABMP Pocket Pathology are new members-only reference apps that let you quickly and easily refresh your muscle knowledge, learn new palpation and technique skills, and look up important information about conditions your clients may present with. You won't find these anywhere else, and they're included with membership!
50+ Discounts and $20 / Month Payment Plans
We know every dollar counts for our members, which is why your ABMP member discounts save you money on massage tables, chairs, and lotions for your practice, shoes and healthy food for your family, and other everyday expenses, and why we offer flexible $20/month payments for ABMP Certified members.
Award-Winning Member Magazines
Included with membership is a subscription to Massage & Bodywork magazine, the leading publication in the field. Our team also produces Body Sense, a client-focused digital magazine you can share with clients. Our magazines feature the top columnists and new voices in the profession discussing the issues, techniques, and news that matter to you.
Dedicated Customer Service and Legislative Advocacy
When you call ABMP we make sure that you get help from a real, human person. Our government relations team listens to the input of members and works directly with state legislatures on the issues that matter. And every day our entire team comes into our employee-owned company with a goal of providing exceptional service to our members.
We're proud to support our ABMP members, and we'd love to support you in your career. Please call 800-458-2267 or email expectmore@abmp.com with any questions, and please join today if you're ready to be part of the ABMP family!