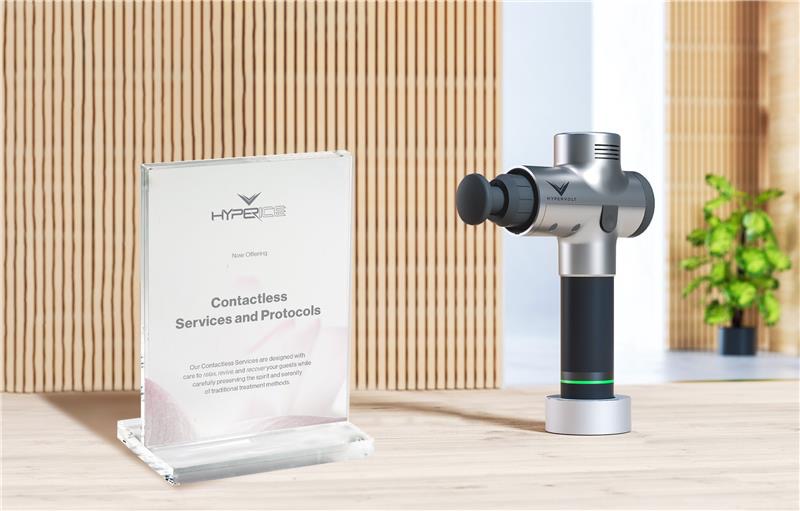 The following blog post is sponsored by Hyperice.
As businesses begin to reopen across the nation, it is crucial to establish best practices to ensure everyone stays safe during the process. Hyperice, a recovery and wellness technology brand that specializes in vibration, compression, and percussion devices, has created treatments and protocols to do just that with the goal of bringing back safe and effective massage practices to help people live and feel better.
Hyperice's award-winning percussion technology is being paired with NormaTec's dynamic pneumatic compression technology to provide an all-encompassing touch-free massage. Available as an enhancement or standalone treatment, each session is fully customizable and welcomes incorporations from aromatherapy to meditation. These contactless treatments are designed to relax, revive, and recover guests while carefully preserving the spirit and serenity of traditional treatment methods.
Contactless Treatment
Products used within the treatments include the Hypervolt, NormaTec PULSE PRO 2.0 Leg Recovery System, and the Venom, all of which can be used by the client with no physical contact by bodywork and massage professionals.
Treatments include:
Relax: Features a gentle full-body percussion massage sweep followed by an extensive circulatory flush to reduce inflammation and complete renewal.
Revive: Repair and reenergize with a dynamic air compression flush to increase lymph flow and promote healing. This experience also features a full body percussion massage sweep designed to ignite circulation.
Recover: Enjoy recovery like the athletes–designed to increase range of motion and improve tissue condition. It uses a full-body percussion massage with targeted treatment zones of increased pressure, as well as a customizable recovery flush to address pain points.
Backed by Science
Reduces Inflammation and Muscle Soreness: Percussive therapy and massage mobilize metabolites from cells and the interstitial space as a result of mechanical activation and disruption. Joint range of motion and flexibility improvement is maximized while minimizing soreness and pain.
Increases Blood Flow and Muscle Oxygenation: Following the Hypervolt with the NormaTec will serve to further increase blood flow to the limbs while increasing muscle oxygenation. Moreover, it will help mobilize fluids contributing to the removal of metabolites and byproducts associated with massage.
Sanitation Protocol
Minimizing contact with clients is just one aspect of ensuring everyone's safety. Hyperice is also offering sanitation protocols outlining suggested guidelines to properly clean the equipment before and after use. Since the Hyperice products used within these treatments are easily sanitized, completing the protocol is quick and simple for professionals.
For more details on the contactless protocols, please reach out to the contact below.
Paige Costello
Sales and Business Development, Spa & Hospitality
pcostello@hyperice.com
949-973-3430