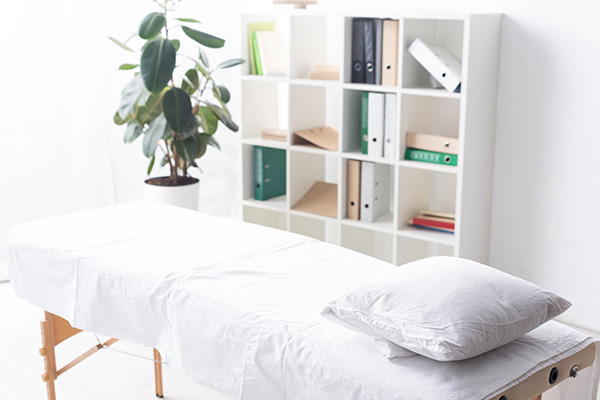 Ready to Dive Back In?
By Ruth Werner
June 18, 2020
Hello friends
How are you holding up?
If you're like most of the massage therapists in my life, you are torn. You want to get back to work because you want to be of service, and you know your clients need you. Also, you need to get back to work because the bills don't stop but the unemployment insurance does.
And yet … and yet. For some, it doesn't seem like the time to dive in.
I see people whiplashing back and forth. One day it's yes, I'll put in my orders for sanitizer and gloves and paper masks; I'll rearrange my office, and get rid of upholstered furniture, and reset my schedule so we don't have people stacked in the waiting area. I'll remove all those tchotchkes, get fresh table protectors and an air filter and maybe a UV wand …
And the next day it's ugh, this is too hard, it's too expensive, what if I get sick, what if someone I love gets sick, what if one of my clients gets sick and thinks it's from my office? And what about the blood clots? Wait—kidney failure? And what if I get sued? I need a lawyer to write my release form? Maybe Trader Joe's is hiring.
And the next day it's hmm, those safety glasses look good; they'll be easy to clean while I wash my hands. And it's time for some hands-free laundry bins. I wonder where I should look for hand sanitizer stations.
It. Is. Exhausting.
And there are still so many unknowns. How many people are infected but asymptomatic—and what if they want a massage? If I live and practice in a place where infection rates are low, am I OK to open? If I don't open, will other massage therapists who are less worried about all this take away my clients? What are the risks and contraindications related to massage for someone who is recovering from COVID-19 but is no longer infectious? What new and completely unexpected problem is going to leap out next? (Murder hornets, anyone?)
I can't settle all of those questions, but I might have a few useful things to offer.
1. Opening Procedures: Guidelines and Suggestions
It turns out that as a group, this profession is pretty good at making plans and guidelines. Over the last few months, I have seen several really thorough, thoughtful, solution-oriented, safety-first guidelines for reopening. It might take some time to find the right guidelines for you, but the process of going through all the decision points, and then comparing each plan to others has value. The three sets of guidelines that I have liked best have been the ABMP Back to Practice Guide, the Healwell classes, and this document published by the Federation of State Massage Therapy Boards (FSMTB). Full disclosure: I contributed to the FSMTB guidelines, along with several other bright lights in the massage therapy profession representing massage therapists in hospitals, private practice, spas and franchises, and schools.
So, if you're thinking about opening and you have questions about what to wear, doing laundry, choosing masks, using surface disinfectants, or where to find a COVID-specific intake form, one of these resources has probably thought of that and can give you some suggestions.
Two things are important to emphasize if you're opening now:
Have an action plan for what happens if and when someone associated with your practice turns out to have an active COVID-19 infection (samples are included with the appendices of the FSMTB guidelines).
Document everything you do to keep your workplace and hands-on practices safe—with every client. If ever a client accuses a massage therapist of spreading the infection through malfeasance or negligence, the key question will be, did that practitioner provide an appropriate standard of care? Adherence to published guidelines, with documentation, will demonstrate that standard of care. This won't prevent the possibility of being sued, but it will go a long way toward being prepared in case that comes up.
It has been interesting to watch peoples' reactions to these guideline suggestions. Some people go, "I already do most of this, this won't be a huge deal," while others say, "I feel so defeated. This isn't what I signed up for. I don't know if I can do all this." (And of course, some people vacillate between the two responses. We're allowed.)
2. Blood-Clotting Risks
The reopening guidelines do not specifically address cautions related to working with clients who may have had COVID-19. That is because they are focused on infection control, not on contraindications. That's where the pathology teacher is asked to step in.
COVID-related coagulopathy (problems with blood clotting) is the focus of my Pathology Perspectives column in the July/August edition of Massage & Bodywork magazine (you can read an advance version here). However, let us please remember that this is a moving target and new information develops daily. As of right now, I have some observations that may help to inform clinical decisions.
In some people (we don't know what percentage), the inflammatory process associated with COVID wreaks havoc not just in the lungs, but also in the cardiovascular system, leading to clotting in tiny vessels and big ones, and in both arteries and veins (which is unusual). Another peculiarity is that these clotting events might happen before major respiratory symptoms emerge, they might be concurrent with respiratory symptoms, or they might develop weeks or months after a respiratory infection seems to have cleared up and gone away. I spoke with some patients whose skin lesions were painless and who stayed physically active throughout their experience, and to another who described what it felt like when a blockage moved through a vein, up her leg, and into her lung. (Yikes.)
How do we apply this blood-clotting risk to practice? Some conversations with medical professionals got me this far:
Any COVID-related marks on the skin (COVID-toe, petechiae, other rashes) might be related to virus-stimulated inflammation and/or microvascular clotting and bleeding. The risk for massage in this situation is mainly about peripheral, small blood vessel damage and bruising, and probably not embolization. Massage should be delayed until all skin signs have cleared up; after this point, we should proceed with extremely light pressure until we know how that stimulus is processed by the local blood vessels. In other words, give a conservative massage, and check back with the client for how they feel in the following days.
If a client has any risk of larger clotting (e.g., signs of deep vein thrombosis, DVT, in the legs or elsewhere), and/or if the client is on prescription anticoagulants related to SARS CoV-2 infection, massage should be delayed until they have been cleared of the threat of thromboembolism.
In short, if we have a client who is known to have had COVID-19 and they want to receive massage, we must be as conservative as possible. If they're on medications for blood clotting, defer their session. If they have skin lesions, defer their session. If they are otherwise recuperating without incident, work conservatively and check in afterward to see how they manage.
3. Other Things in Development
Reread the last sentence above. The key phrase is "recuperating without incident." Right now, we don't know all the ways COVID-19 might leave permanent damage behind it. Most patients appear to recover without major impact on long-term health. But for those who experience more severe infections, we see a risk of kidney failure and the need for dialysis that may persist after the infection is over. Some people develop heart failure that will be part of their health profile for the rest of their life. Neurological symptoms including seizures and depressed respiratory drive may be the result of direct viral attack, or of inflammation and the immune system response in the brain stem. Either way, these complications may outlast the infection. We don't know if these complications are limited only to patients with severe disease, or if they might develop in others as well.
Where Does That Leave Us?
We are all living in a world that has gone beyond decision fatigue; we're in decision paralysis. We are having to make literally life-and-death choices, without enough information to be sure we're on the right track.
But truthfully, that has always been the case. COVID-19 has brought this to the front of our consciousness, but we always work with the possibility of accidentally doing harm. That's why we go to school to learn how to do massage safely.
There are no one-size-fits-all solutions for the problems in front of us. The best we can do is to carefully gather useful information, and when the time feels right, to cautiously put a toe in the water—and be prepared to pull it back out again if things change. We don't have to dive back in all at once. We can enter the pool slowly, while we get our footing.
The future massage therapy profession won't be what it was before 2020. I expect this event will have long-term impact on how we practice, and how we learn about how we practice. I am eager to be part of our new normal, whatever that looks like. Above all, I am eager to get back on a massage table with a practitioner who is curious, caring, and ready to swim.
author bio
Ruth Werner is a former massage therapist, a columnist for Massage & Bodywork, and an NCBTMB-approved continuing education provider. She wrote A Massage Therapist's Guide to Pathology (available at www.booksofdiscovery.com), now in its seventh edition, which is used in massage schools worldwide. Werner is available at www.ruthwerner.com or wernerworkshops@ruthwerner.com.