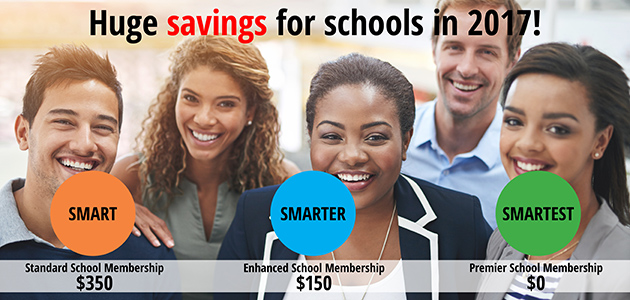 Happy New Year! I hope everyone is refreshed, healthy, and ready to tackle the challenges of the coming year.
This is my 23rd "new" year with ABMP, and I am as excited about what ABMP has in store for this year as I have been in any of the 22 prior years. We've made some pretty important strides in the past few years, for professionals as well as the massage education community—from free continuing education, the Summit education series and Member Education Day, to ABMP Exam Coach and ABMP Student Life. We are constantly trying to improve the value of membership with ABMP.
So what's happening for 2017? Well, we have a few things in the oven for professionals coming a little later in the year, and I think you'll be excited about those, too. For schools and students, we've got some exciting news right out of the chute.
Effective immediately, we'll be offering free student membership—including the best liability insurance available—for all massage therapy students attending ABMP member schools.
---
3 Steps to Free Student Membership with Insurance
Choose either ABMP Enhanced or Premier School membership (full information at www.abmp.com/educators)
Fill out this spreadsheet with your student roster information.
Email your spreadsheet to education@abmp.com and finalize your ABMP School Membership order.
It's that easy, and it costs your students nothing!
---
Even better, if a school signs up every student for ABMP Exam Coach—the best MBLEx prep tool in the massage profession—they'll get a special discounted subscription rate.
And, their ABMP School Membership will be free.
And, we'll include a free registration to the ABMP School Forum.
Now that's a Happy New Year!
These new school membership options—Standard, Enhanced, and Premier—are spelled out at www.abmp.com/educators, and you can also contact your dedicated ABMP School Relations team at 800-458-2267 or education@abmp.com to learn more about how ABMP can best support you in 2017.
And, while you're there, check out our two 2017 ABMP School Forum events in Minneapolis, MN, and Charleston, SC, where we'll continue the tradition of meeting with educators in person to work through the issues facing massage educators this year.
Warm wishes for 2017. We look forward to serving you!
Les Sweeney, BCTMB
President