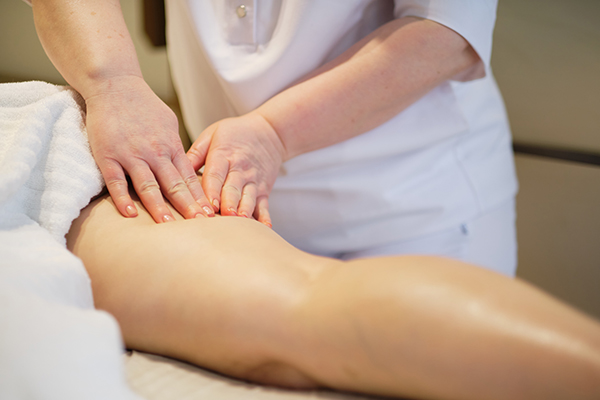 By Julia Morrow
If you're a massage student or a working therapist, you've probably had a small amount of training in manual lymphatic drainage (MLD). But did you know there is certification in this modality? The training offered through certification schools in the US is vastly different and much more in-depth than what is taught in a weekend class at massage school. There is a huge need in this country for certified therapists, and having this certification offers you a way to niche your practice for a growing client population.
Lymphatic Drainage Certifications
There are two certifications available for this modality: a Certified Manual Lymphatic Drainage Therapist (CMLDT) certificate involves a minimum of 40 classroom hours. The other, loosely considered the second half of that certification, is a Certified Lymphedema Therapist (CLT) certification, which requires a minimum of 135 classroom hours.
The CMLDT allows practitioners to provide MLD therapy on healthy clients who want an immunity boost, are dieting or detoxing, or who have post-surgical edema, as well as clients who have lymphedema, lipedema, or cancer.
The CLT certificate teaches the full MLD protocol with additional course work on how to measure and bandage a limb that has lymphedema or lipedema, as well as how to counsel patients on garment selection and care, weight loss and exercise strategies, infection prevention and control, wound care, and more. Therapists are not required to have both certifications, but it is strongly suggested you get the more robust training for this clientele, because even if you are never asked to bandage a lymphedema patient's arm or leg, for example, you will have the training to talk knowledgeably with this client about their treatment, debulking, or lymphovenous bypass surgery.
MLD therapists also work closely with post-cosmetic surgery clients. MLD treatment speeds up recovery time and reduces pain, swelling, bruising, and the chance of scarring and fibrotic tissue from forming. Normally, a client will have a therapist come to their home twice a week for 3–8 weeks starting the fourth day after surgery.

Why Certification Matters
Many states have no legislative body to regulate who claims to do MLD, and often, untrained or undertrained individuals claim to practice this work. Some advertise a dangerous practice known as "incisional drainage" where the "therapist" illegally picks open the incisions of cosmetic surgery clients several days in a row, often starting the first day after surgery. They squeeze the client's body roughly and painfully, pushing bloody fluid out through the incisions. Other "therapists" illegally pull out plastic drain tubes from inside the person's body and/or perform needle aspirations of seromas. Many show these graphic procedures on YouTube and Instagram and never get caught.
Clients are bombarded with misinformation on social media channels and in patient support groups. What they need are top-trained, certified professionals assisting with their aftercare. There are only a couple of places in the US where you can receive cosmetic surgery-specific training in MLD. Cosmetic surgery-specific training is not required before working with these clients, but as an ethical practitioner, you will want the most training possible from an authorized source. Also, the compensation is quite high for certified MLD therapists (especially mobile therapists) working with this population.
There are only about 10 certifying schools in the US that are approved by the Lymphology Association of North America (LANA). All have online trainings and/or send teachers around the country to different cities. Interested in learning more? Check to see if a training will be coming close to you.
author bio
Julia Morrow, CMT, CES, CMLDT, CLT, is a certified massage therapist, certified manual lymphatic drainage therapist, and certified lymphedema therapist in California.
Related content:
"Lymph Drainage" with Dr. Bruno Chikly (1 CE hour)
"Lymph Drainage Therapy: Gentle Manual Therapy for any Practice" with David Doubblestein (1 CE hour)
"Manual Lymph Drainage in Hospice Care" by John F. Mramor