We are making some improvements to ABMP Exam Coach for your students, and ABMP Exam Coach Tracker for your school. Below you'll find the highlights.
Your massage students are going to be thrilled with the next level of study that ABMP Exam Coach now provides to prepare them for the MBLEx exam. Learn more about the new features for Exam Coach and feel free to share this information with your students.
ABMP Exam Coach Tracker is now lightning fast at giving you high-level graphics and data for your campus Exam Coach activity and individual student outcomes. Drilling down to specifics for each massage student is just a click away! The highlights below will get you started, and the full guide is available at https://cdn.abmp.com/public/pdf/EC-Tracker-Guide-2020-web.pdf?file=1.
Here's what's new:
ABMP Exam Coach Tracker – School and Cohort Viewing Updates
High-level view of campus activity including total number of quizzes and practice exams taken and passed.

ABMP Exam Coach Tracker – School and Cohort Viewing Updates - CONTINUED
High-level graphics view of a cohort's overall progress with quizzing and practice exam data.
A student list displayed with color coding and bar graphs to quickly identify student usage, the most recent MBLEx practice exam if taken, graduation dates, and Exam Coach expiration dates for easy reference.
Easy verification of student email on file for log-in challenges.

ABMP Exam Coach Tracker – Individual Student Viewing Updates
Easy-to-read graphics including a trend line for the student's most recent MBLEx practice exam scores.
Expandable subject breakdown data.
Quizzing scores include color notification to quickly assess potential challenge areas.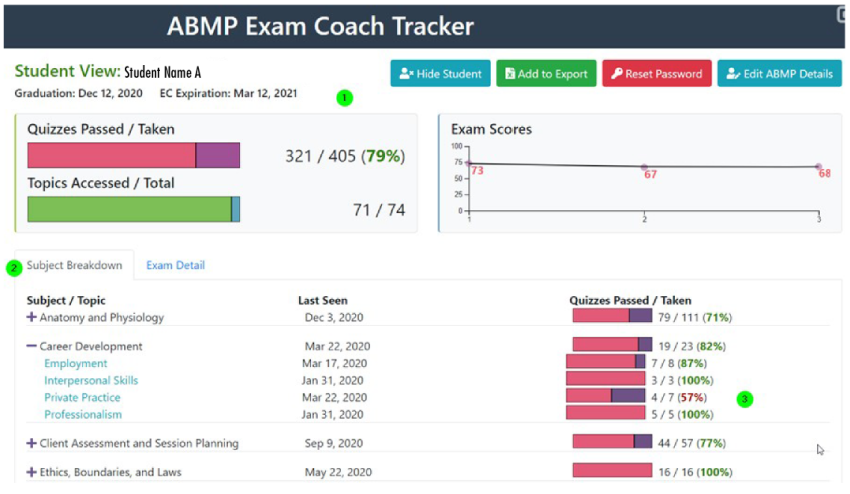 ABMP Exam Coach – MBLEx Exam Result Updates
Practice Exam results tab added.
Score data includes color coding for quick analysis of progress.
View full exam timeline to see start date and time to completion data.

Our team is ready to answer your questions at education@abmp.com or 800-458-2267!