ABMP gives massage and bodywork students and graduates great first-year pricing options on ABMP Professional membership so you can start your career with the support and resources you'll need to build a successful career, including free CE, professional liability insurance, 50+ member discounts that give you big savings on massage tables, and the award-winning Massage & Bodywork magazine.
$75 or $7/month ABMP Certified membership for ABMP Exam Coach subscribers
If you have an ABMP Exam Coach subscription, either from your school or purchased by you, your first year of ABMP Certified membership is just $75, or $7/month for 12 months. That's the best deal in the profession! You'll also get to use ABMP Exam Coach to prepare for the MBLEx during school. (Haven't heard of ABMP Exam Coach? Try a demo at www.abmp.com/examcoach.)
$150 ABMP Professional membership for ABMP Student members
If you are an ABMP Student member, you also get a great discount on your first year of ABMP Professional membership, including liability insurance to protect your career, and save $49.
Pro tip: If you're planning to protect your career with professional liability insurance and secure discounts and resources to make starting easier, consider getting ABMP Exam Coach for your MBLEx test prep and locking in your $75 upgrade rate. It's like a down payment on your future success!
Still in school? Student options, including ABMP Exam Coach, are at www.abmp.com/students.
When Should I Upgrade?
The answer to this question depends on a lot of variables—your state, your schooling, your test—but it comes down to what is best for you. Here are the questions to ask yourself. Please call us at 800-458-2267 if you have questions about any of these scenarios—our membership team are experts at helping!
Am I in a state that requires liability insurance before I get my license?
If you'll be applying for a license in Alabama, Colorado, Indiana, Massachusetts, Missouri, Oklahoma, Puerto Rico, South Dakota, or Wisconsin, you'll want to upgrade first, as these states require proof of liability insurance to get your license—and your ABMP Professional membership provides that.
Am I ready to practice professionally according to the laws of my state?
If you have your license and are ready to start getting paid for bodywork, now is the perfect time to upgrade. If you're still waiting for your license to arrive, you have a couple of options: you can wait to upgrade, continuing to log in to your student account to use your graduate resources, or you can upgrade to ABMP Professional membership for full access to ABMP member discounts (for example, if you want to save big on a massage table or other supplies). Keep in mind that if you upgrade before receiving your license, your liability insurance will not be active until we can add your licensing information to your membership.
Am I in a state that has voluntary certification, or no state regulation?
If you'll be working in California, Kansas, Minnesota, Vermont, or Wyoming, you can upgrade to an ABMP Practitioner membership, including liability insurance. Please call us at 800-458-2267 for specific information about upgrading in these states.
Bonus!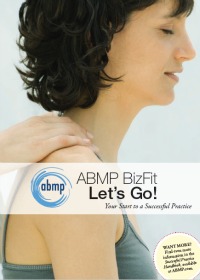 Every new member gets ABMP BizFit Let's Go! Your Start to a Successful Practice when they join ABMP as a professional. This helpful guide is full of tips that will help you get started in your massage and bodywork career, including:
What's Your Path, featuring job search strategies, resume tips, and career path advice
Your Image, delivering tips for first impressions, defining your professional values, and the laws of likability
Market Yourself, including how to name your practice, no-stress marketing materials, and social media advice
Take Care of Yourself, combining nutrition, body mechanics, and safety into a personal self-care strategy