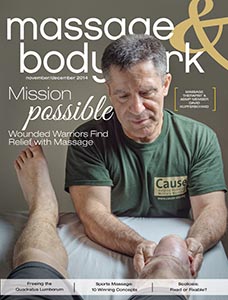 We received exciting news at our ABMP offices last week when Massage & Bodywork magazine was nominated in several categories for Folio's Eddie and Ozzie Awards—the publishing industry's largest and most prestigious editorial and design contest.
Three of those nominations were for our November/December 2014 issue "Mission Possible," which focused on massage and bodywork for wounded warriors. It was a special issue for us … on many levels.
Creating the issue's cover story, "David's Heroes," was a journey—one that took nearly a year to complete. Countless interviews were conducted with each of the featured wounded warriors, their massage therapist (and ABMP member) David Kupferschmid, and with officials of the group that originally united them—Comfort for America's Uniformed Services (CAUSE).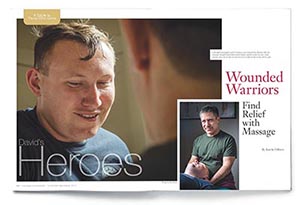 All were so gracious with their time, but the wounded warriors especially so, as they shared intimate, grueling memories—both the moments their lives were forever changed by catastrophic injury and the agonizing roads to recovery they each had to travel. These men gave me entrée into their lives for a reason: they wanted me to know, and they wanted you to know, that massage truly makes a difference in their healing process.
Since the article's publication last October, Kupferschmid has shared with me the impact it has had—he's been contacted by therapists from around the world who were eager to hear more about working with amputees and how they could serve wounded warriors in their own communities. The group of wounded warriors coming to him for therapeutic relief continues to grow. And massage is becoming more and more a part of the conversation in certain military circles.
When Kupferschmid called me two weeks ago, he was busily getting ready for his next client, but asked me to send along more copies of the magazine in which his work was featured; a 3-star general and former US Army Surgeon General was interested in reading more about the value of massage in the rehabilitative process for wounded military personnel.
Wouldn't it be amazing if our community could effect change in a systemic way—where massage could be the norm, not the special request, in a wounded warrior's rehabilitative process or protocol for pain management? Now, that would be exciting!
—Karrie Osborn, Senior Editor