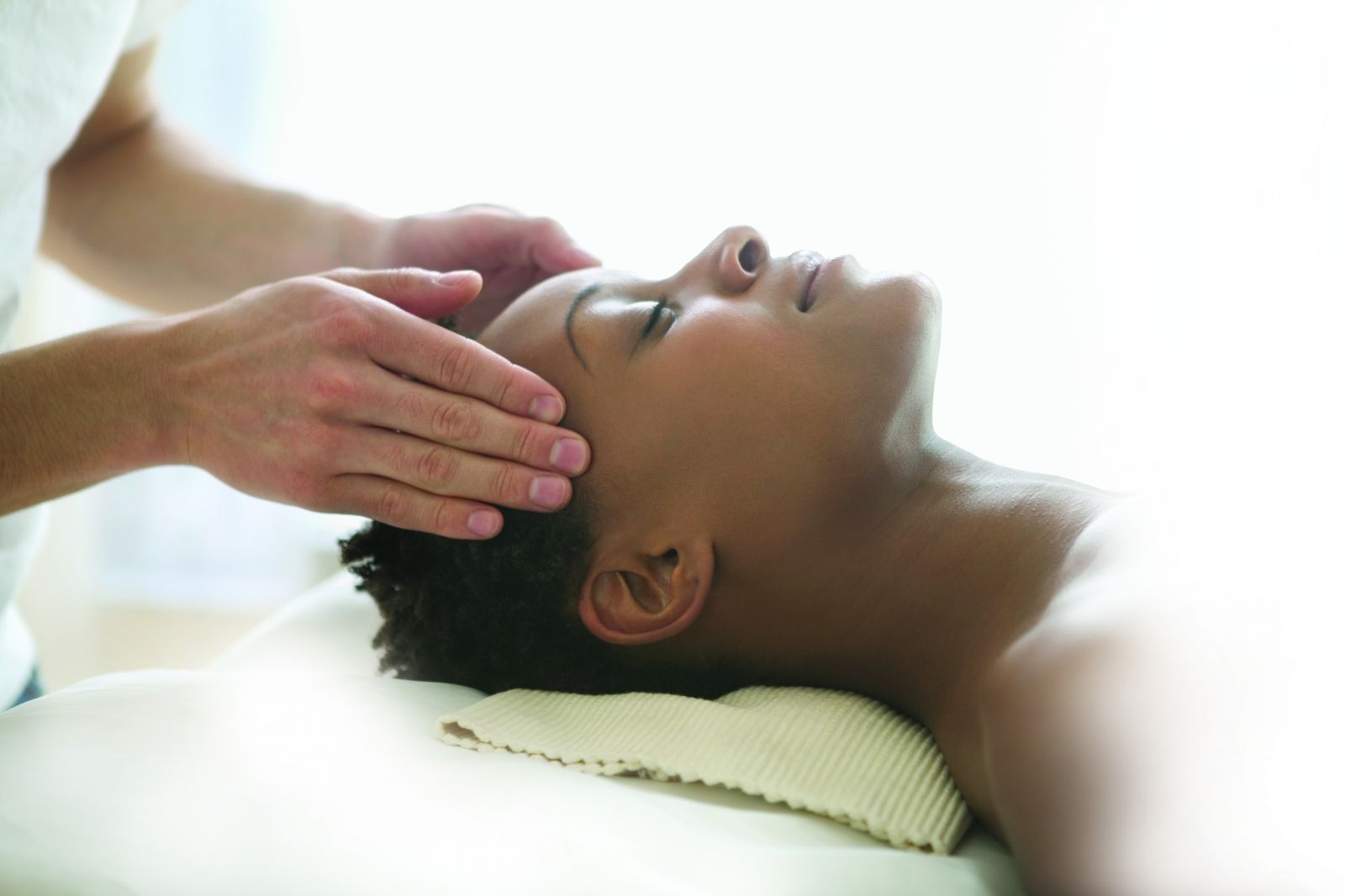 EveryBody Deserves a Massage Week took place July 10–16, and massage therapists and bodyworkers across the country organized events and donated their time to spread the power of massage. Some of the massage therapists here at ABMP held their own events as well.
Angie Parris-Raney, LMT, ABMP's director of affinity relations, volunteered at Chinese Children Adoption International, providing massage to some of the children, parents, and staff there. The parents got chair massage, plus some massage tips they could use at home. Angie used puppets to introduce massage to the children through storytelling: "The puppets helped us do bunny hops (on acupressure points down the arms and hands), it rained on their backs (tapotement), and the kitty cat climbed up their shoulders and head, purred, and gave them a rub (petrissage). Each child got two finger puppets to take home (souvenirs brought back from Peru when I've volunteered down there with my nonprofit, Project Inti)."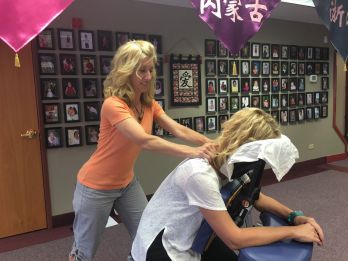 Angie Parris-Raney provides chair massage to the staff at Chinese Children Adoption International.
Angie also offered chair massage to the staff at the center. It was so popular that the sign-up sheet filled up within minutes! Only half of the staff was able to sign up, so Angie is planning another day to go back in September to reach the other half of the staff. "And who knows, maybe another set of parents might want to learn massage for children, too!" Angie says.
Kristin Coverly, ABMP's manager of professional development, partnered with fellow ABMP member Joan Laubacher to give chair massage to the staff at the Boulder Shelter for the Homeless.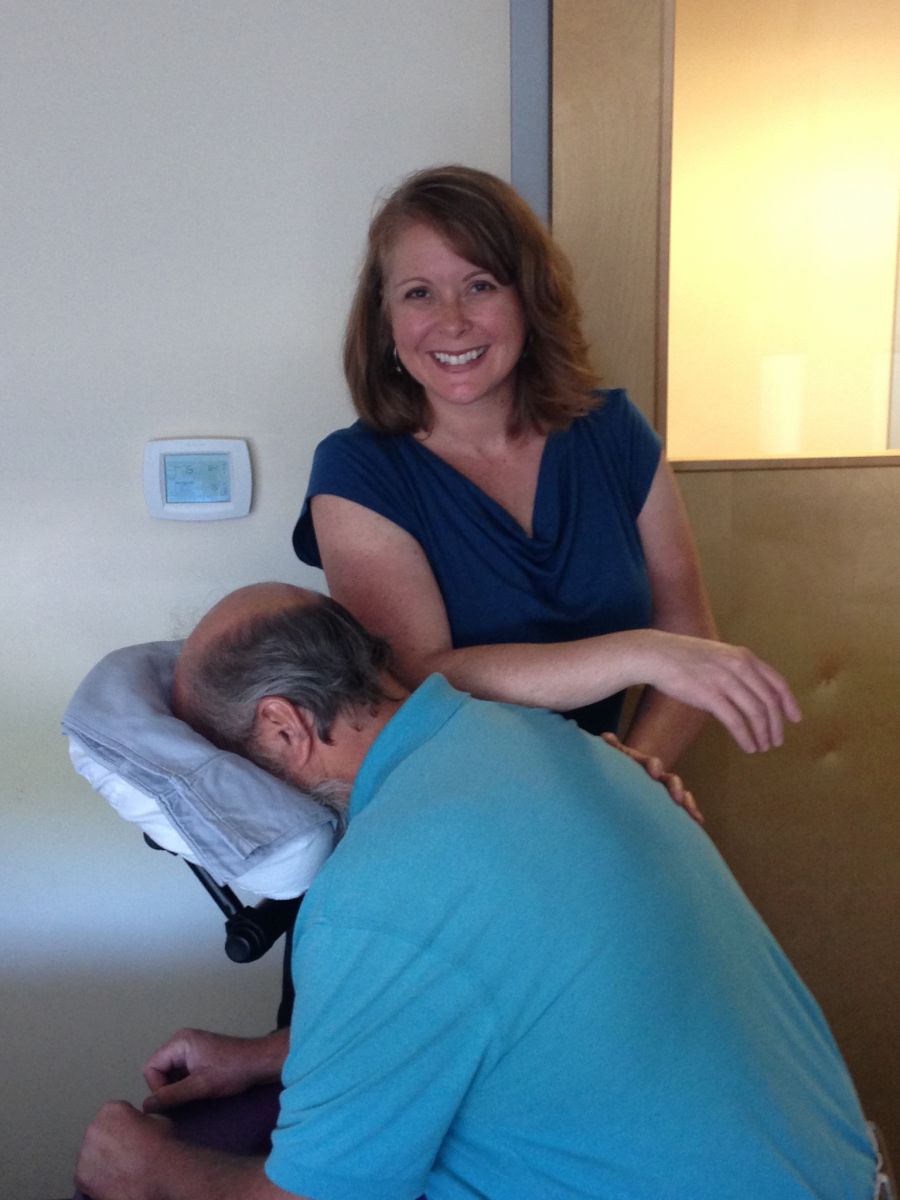 Kristin Coverly massages a staff member at Boulder Shelter for the Homeless.
Kristin says, "It was so rewarding to help the passionate employees who are doing such selfless and challenging work in our community. It was a beautiful reminder that even a 15-minute chair massage session can help people physically and emotionally and act as a bright spot in their day! It also reminded me how easy it is to volunteer my time, share this incredible work, and form new connections in my community. I'm already looking forward to my next volunteer opportunity!"
Cindy Williams, ABMP's education program coordinator and facilitator, volunteered at Sunrise Senior Living, providing hand and shoulder massage to some of its elderly residents. Cindy says, "Too often our elders in assisted living and nursing homes are deprived of soothing touch, and the residents that I provided hand and shoulder massages to were very grateful."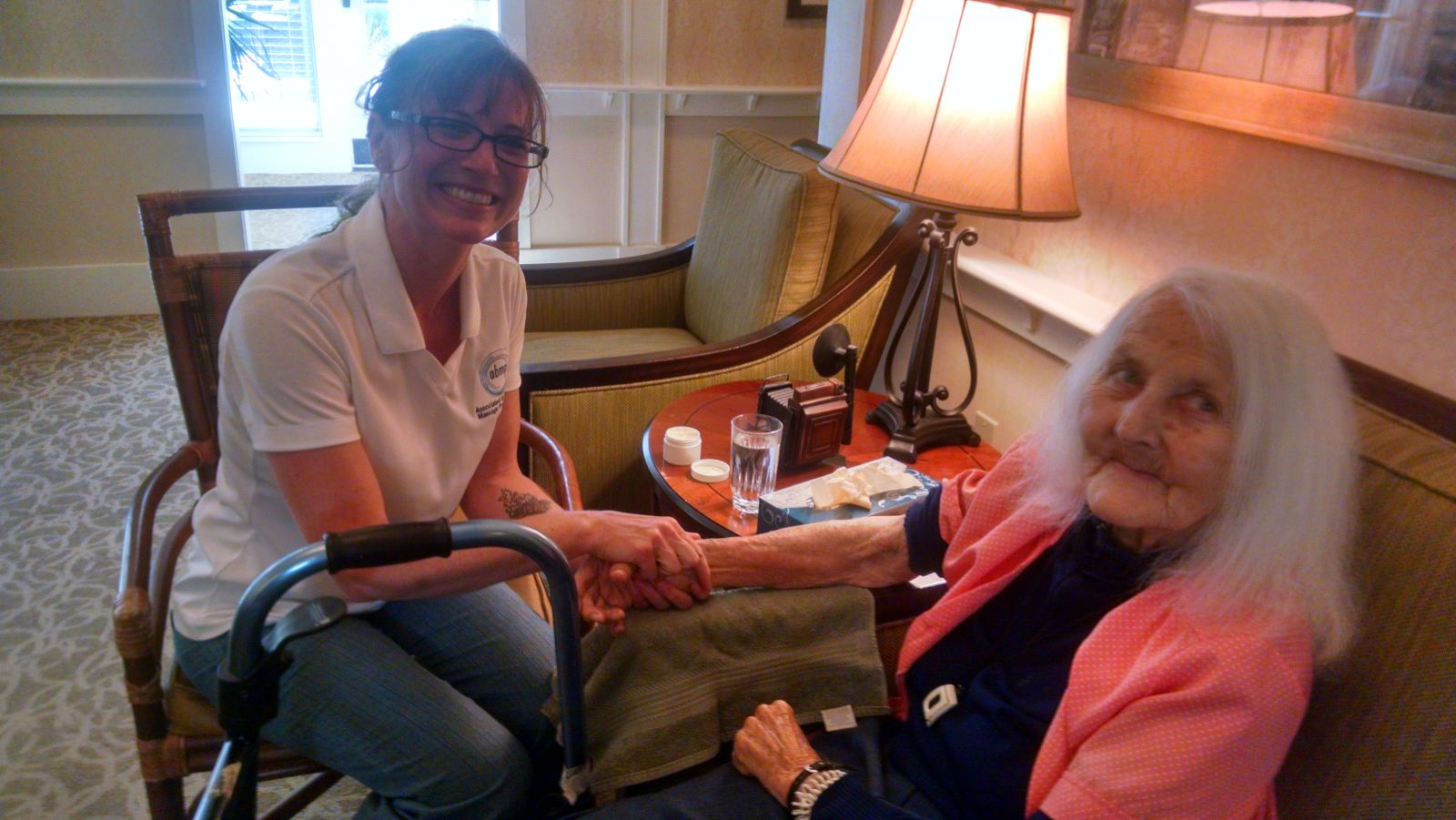 Cindy Williams gives hand massage to a grateful resident of Sunrise Senior Living.
What did you do for EveryBody Deserves a Massage Week? We'd love to hear from you. Comment below or send details and photos of your event to differentstrokes@abmp.com, and we might include your story in an upcoming issue of Different Strokes, ABMP's member newsletter.