You Deserve More.
Get More, with ABMP Membership!
Professional/Practitioner
$199
Our baseline level of membership gives you:
Certified
Best
Value
$229 or $20/month
Everything included in our baseline level, PLUS:
Even bigger discounts on massage tables and supplies, and more.
Access to the World Massage Conference Vault of 400+ CE courses.
Ebooks with free CE on topics like oncology massage.
Top listing on the Massagetherapy.com referral service.
Unique ABMP Certified member ID materials to display to clients.
Student or recent graduate? See ABMP Graduate pricing!
Associate
A non-insured option
$199
Provides access to on-demand continuing education courses, but does not include liability insurance. Features all digital benefits, including 50+ partner discounts, digital Massage & Bodywork, and more. A great choice for massage therapists and bodyworkers outside the United States and for individuals in professions related to bodywork.
Associate Membership Benefits
From ABMP Members
Term description:

"I love ABMP! Im very proud to belong to a company with high standards and amazing customer service!"
—

Ajalon

Term description:

"Thank you for your extensive and in-depth offerings for those who purchase insurance from you. It really shows that you all go above and beyond and do so much on so many levels."
—

Amanda

Term description:

"ABMP provides so much to help me with my business. From the marketing tips to all of the learning tools to keep up with constant ever changing world of massage. It keeps me wanting to do more, learn more, and massage more."
—

Amy

Term description:

"For about 10 years now, whenever I have a question in regards to business, client, or staff liability I just pick up the phone and get the answers I need from people who respect what I do."
—

Andrea

Term description:

"I love all the great information in the magazine and how it keeps me motivated to do better bodywork."
—

Angie

Term description:

"Never thought I'd ever need to take advantage of the amazing coverage you have."
—

Anna

Term description:

"When I call ABMP I get to speak to a live person that actually knows what they're talking about (that's almost unheard of anymore). I love you guys. You are great to work with."
—

Annette

Term description:

"Just renewed my ABMP membership—a proud member now for 10 years! These first 10 years have been amazing. Looking forward to the next decade of bodywork! Thanks for your support ABMP!"
—

Anthony

Term description:

"Great insurance policy, websites,resources, magazine, webinars, marketing materials, affordable. I can go on and on about the benefits of being an ABMP member."
—

Barbara

Term description:

"ABMP makes me feel like a professional in the massage field, and they provide all that we need to succeed. So much to love about them."
—

Bayi

Term description:

"Your customer service goes the extra mile to take care of us and make sure that we feel important. I have had excellent service and more than once, customer service has helped me understand what I needed, how to get it and all done with courtesy, kindness and a goal for excellence."
—

Bernadine

Term description:

"ABMP is amazing! From webinars to marketing and client-building advice, they take care of their therapists so we can take care of everyone else!"
—

Cherie

Term description:

"ABMP is like you own professional team. They help keep their therapists up to date with legislation changes, and also with continuing education. They also help you to create your competitive edge. And the discounts aren't too bad either!"
—

Amanda

Term description:

"ABMP is the gold standard for respect, education, and supporting bodywork as the true healing art and science that it is!"
—

Chris

Term description:

"I love the instructor resources. This sold me first on ABMP; that is why I switched. I also love the resources you have for building our businesses. Thank you :)"
—

Christine

Term description:

"The entire website is a goldmine. I visit ABMP.com daily. The free website and email has made establishing a new practice so easy!"
—

Elizabeth

Term description:

"I love the way ABMP supports its members and is adding more resources to encourage our growth both personally and as an industry."
—

Enid

Term description:

"I love the passion of everyone at ABMP! Authentic, helpful and warm people. They go above and beyond."
—

Amy

Term description:

"The one thing I love about ABMP is that it is a one-stop shop for ALL my professional needs!"
—

Gina

Term description:

"I love the website builder and all the professional tools you have online to help those who may not have had a clue where to start in those areas."
—

Heather

Term description:

"I love ABMP and respect and admire their contribution to the industry. They have helped give massage credibility so that it now seen as an integral part of professional healthcare."
—

Helen

Term description:

"I was helping a friend build her website on AMTA … holy moly. ABMP's website builder is light years ahead of AMTA's system and offers so much more for free. THANK YOU!"
—

Jacque

Term description:

"I love that I always receive a prompt response from ABMP when I have a question. Every professional organization should practice such service."
—

JeAnne

Term description:

"I'm thankful for the staff at ABMP. Not only are the people on the front lines with customers (me!), but they are genuinely helpful and eager to answer my questions that are above and beyond their job description."
—

Jenna

Term description:

"ABMP has the best customer service. I needed a copy of my insurance policy while in Telluride working a bike tour and ABMP emailed the policy to the event organizer on the same day. Saved the day!"
—

Jerry

Term description:

"I love how easily accessible everything is and customer service is full of the sweetest people!"
—

Jess

Term description:

"Just wanted to drop a thank you for your latest Body Sense magazine. I received it today and immediately put it out to my contact list. I booked six clients today!"
—

Kelly

Term description:

"My favorite thing about ABMP is that they genuinely care about us and everything involved with massage therapy. They keep us up to date on information and provide excellent resources for all."
—

Caitlin

Term description:

"I love all of the resources ABMP has for us to use—the magazines, webinars, customer service—pretty much everything! A truly great company!"
—

Leigh Ann

Term description:

"ABMP is an incredible resource! From the beginning as a student to an instructor and now a business owner, ABMP has helped me be a better therapist."
—

Lori

Term description:

"ABMP makes it so easy—insurance, education, marketing, and opportunity—why would you want anything less?"
—

Mary Ann

Term description:

"ABMP is the best you can get! Love how helpful the whole magazine is! And the people that work in the office are the most friendliest people."
—

Matt

Term description:

"ABMP has helped me by giving me a foundation to build a confident successful career in massage therapy. I am very thankful for their services."
—

Michelle

Term description:

"I love ABMP for the wealth of help and information that's so really available. They truly show how much they want you to succeed. The personal touch they give to everything, even renewal reminders."
—

Millie

Term description:

"With ABMP, a passionate MT can experience true career growth, no matter which modality/specialty you choose."
—

Natalya

Term description:

"Love the service! ABMP is so helpful for pretty much everything. And don't get me started on the website builder!!! Awesome-sauce!!!"
—

Kristina

Term description:

"Webinars, outstanding customer service and support and sweet perks. Did I mention you look great? Been working out?"
—

Paul

Term description:

"I love ABMP for the vast amount of resources provided and how comfortable they made me feel as a new massage therapist. They are definitely helping me grow in my career"
—

Rachel Marie

Term description:

"You people at ABMP never cease to amaze me. Who goes out of their way to help people the way you guys do these days (besides me of course). I thank you so much."
—

Annette

Term description:

"ABMP shows me they strive to promote the prosperity of the field, and ongoing education and discussion about massage therapy being an acceptable and successful form of treatment amongst the medical community."
—

Renee

Term description:

"Thank you ABMP for guiding me toward becoming the professional practitioner I am capable of becoming."
—

Richard

Term description:

"ABMP is an incredible organization that offers so much to help its members from the fresh new grad to the seasoned therapist. I truly love ABMP and am very proud to be a member."
—

Samantha

Term description:

"The webinars are wonderful! I'm not sure what I would do without ABMP (and I'm not just saying that)."
—

Sandra

Term description:

"Wow, where can you go to get a simple, user-friendly website that is basically FREE! (Actually, I think the fees pay for the website and the insurance is free … just saying!) I have been with ABMP since 2007 and love it."
—

Cindy

Term description:

"It's easy to say GREAT things about ABMP! The free website was great when I first started out, the marketing materials are very informative and nice to have in the office. I LOVE LOVE LOVE the magazine!"
—

Sarah

Term description:

"I appreciate ABMP's insurance coverage; it's easy to understand, easy to renew, has perks, and accommodates/respects energyworkers!"
—

Sylvia

Term description:

"I love how ABMP covers my gluteus maximus and keeps me in the know!"
—

Tammy

Term description:

"ABMP is awesome, very resourceful, and the webinars are very informative. I made the right choice when I chose ABMP to protect me as a Massage Therapist."
—

Tracy

Term description:

"I love how the magazine not only keeps me up to date with techniques but helps me think like a business owner and prepare for success."
—

Trina

Term description:

"ABMP is an incredible resource in all that it provides, and guides you from the onset of your career to the evolution."
—

Veronica

Term description:

"I have been and remain a member of many professional organizations, including ABMP. It has been my experience that by far ABMP is the BEST of the bunch (and I work for some of the others). The quality of the material, the benefits, the cost, and the AMAZING STAFF have always set ABMP apart. I just wanted to let everyone there know that your work is greatly appreciated."
—

Troy

Term description:

"ABMP has the BEST customer service, hands down! Even when I was only a prospective massage student, they went above and beyond answering my questions about schools and helping me find ones that were near me."
—

Michelle

Term description:

"ABMP is much more than an insurance company to me. They have been the life blood for some of my marketing ideas—brochures, newsletters, etc."
—

Cindy

Term description:

"ABMP webinars have been the most helpful tool since I've become a massage therapist. The other group I was with is not as involved with the success of their members, even though they try to look that way. Thanks for being the real deal."
—

Anna

Term description:

"ABMP has made running my business so much easier! Can't imagine how I would have succeeded without them!"
—

Deborah

Term description:

"I have used other website services and am very glad I decided to take advantage of ABMP's free website. For me, it was easier to understand and work with than the others, and my website looks just as good (or better) than the other websites and functions really well."
—

Jan

Term description:

"Best money spent EVER! I love ABMP! You offer so many wonderful benefits and always have my back!"
—

Ruby

Term description:

"I love ABMP for all that it has to offer aside from insurance coverage. They are a source of inspiration, education, creativity, and motivation. I can't see myself as an LMT without them!"
—

Lucy

Term description:

"The free website that comes with the membership is awesome. I love that it's easy to customize and my clients love that it's user friendly."
—

Tammy

Term description:

"ABMP puts the EASE in easy! From marketing to continuing education I have it all! I am grateful!! Thank you ABMP for all you do!!"
—

Dawn
Read Massage & Bodywork Magazine Online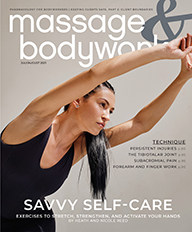 ​ABMP's award-winning magazine brings you more articles from the top names in the profession than anyone else. Learn new skills, gain information to boost your practice, and stay up to date on the biggest news in the profession.
Get Instant Access
Free CE Hours with ABMP Membership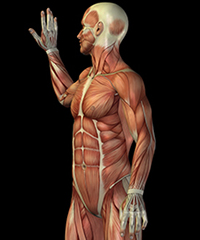 ABMP membership includes 200+ courses with FREE CE, and even more for ABMP Certified and Associate members. Not a member? Join today, or purchase course access.
Explore ABMP CE
News
ISPA will host an open webinar on July 28 to release the highlights of the 2021 installment of their annual U.S. Spa Industry Study.
A new study published in the Journal of the American Heart Association demonstrates the strongest evidence to date that a breathing workout known as high‐resistance inspiratory muscle strength training (IMST) can help lower blood pressure and improve cardiovascular health in adults.
Icing is one of the most common treatments for acute muscle injuries. However, previous studies on rodents have demonstrated detrimental effects of icing on muscle regeneration following injury.
Benefits
Our next event in the ABMP CE Socials series is now open for registration at abmp.com/ce-socials. ABMP CE Socials allow you to connect and engage with your massage community, experts in the field, and ABMP as you learn and earn CE!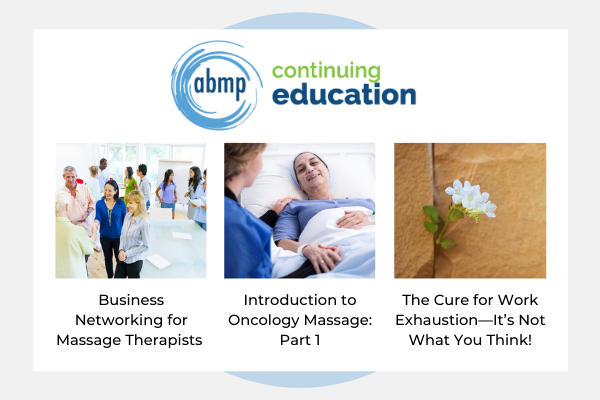 Watch these video-based CE courses in the ABMP Education Center to prepare for a successful Massage is for EveryBody Week! These courses will help you learn the skills you need to make connections in your community with confidence, work with a population in need, and make plans for your practice from a place of wholeheartedness and authenticity.
For the month of July, ABMP members can watch Touched: A Massage Story at a 50% discount with the code ABMP at bodyworkforliberation.com/documentary.