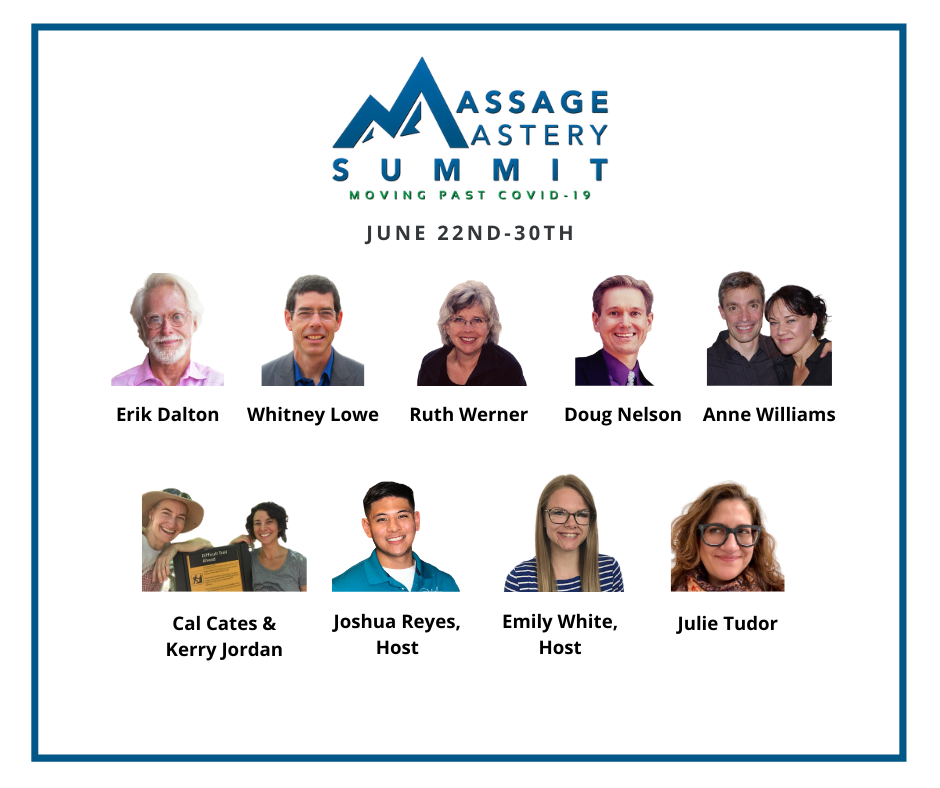 The Massage Mastery Summit is a series of free online virtual presentations taking place from June 22–30. Hosted by Joshua Reyes and Emily Rene, two licensed massage therapists, the goal of the event is to give bodyworkers information and best practices for moving forward through the COVID-19 pandemic while building connection and community.
The schedule features several Massage & Bodywork magazine authors, including Ruth Werner, Cal Cates and Kerry Jordan, Erik Dalton, Julie Tudor, and Whitney Lowe, as well as the president of the Massage Therapy Foundation, Doug Nelson, and longtime ABMP education director and author of "Preventing Disease Transmission in a Massage Practice", Anne Williams.
Registrants can attend any one, or all, of the sessions for free.
Registration and further details are available at www.massagemasterysummit.com.
The full presentation schedule is as follows:
Ruth Werner on Monday, June 22 at 8:00 a.m. PT / 9:00 a.m. MT / 10:00 a.m. CT / 11:00 a.m. ET
Anne Williams on Tuesday, June 23 at 8:00 a.m. PT / 9:00 a.m. MT / 10:00 a.m. CT / 11:00 a.m. ET
Cal Cates & Kerry Jordan on Wednesday, June 24 at 8:00 a.m. PT / 9:00 a.m. MT / 10:00 a.m. CT / 11:00 a.m. ET
Erik Dalton on Thursday, June 25 at 1:00 p.m. PT / 2:00 p.m. MT / 3:00 p.m. CT / 4:00 p.m. ET
Julie Tudor on Friday, June 26 at 8:00 a.m. PT / 9:00 a.m. MT / 10:00 a.m. CT / 11:00 a.m. ET
Doug Nelson on Monday, June 29 at 4:30 p.m. PT / 5:30 p.m. MT / 6:30 p.m. CT / 7:30 p.m. ET
Whitney Lowe on Tuesday June 30 at 11:00 a.m. PT / 12:00 p.m. MT / 1:00 p.m. CT / 2:00 p.m. ET