Good news! ABMP Five-Minute Muscles uses new progressive web technology, so when you use it once, much of the information is then stored for offline use. Plus, you can easily save the program to the home screen of your phone (directions below) as well. That way, you get an app-like experience without it taking up much space (our 166 videos would make it huge!), and we're able to make sure it is only available for our ABMP members, at no charge.
ABMP members can access it here. If you're not an ABMP member, learn more about this online program here.
How to Save ABMP Five-Minute-Muscles to Your Home Screen
Android Users
Tap bar at the bottom of the home page "Add ABMP 5MM to Home Screen."
If you don't see that bar, then tap your menu button, open the menu, and tap "Add to Home Screen."
iOS Users
Click the share button

at the bottom of the screen.
Tap "Add to Home Screen."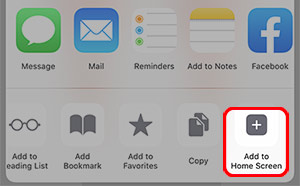 (You may be prompted to log in once more).