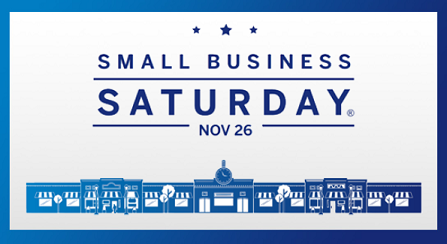 You are a small business.
And this Saturday, November 26, is Small Business Saturday.
What are your plans?
Whether you're a business of 1 or 21, this annual post-Black Friday event is meant just for you!
Small Business Saturday was created to encourage consumers to think about their local, neighborhood businesses and support them during the busy holiday shopping season. In 2014, an estimated $14.3 billion was spent at independent businesses during Small Business Saturday. And in 2015, 95 million people shopped at small businesses during the one-day event.
You can still take part in this Saturday's event with a few simple ideas:
• Go to www.americanexpress.com/us/small-business/shop-small and download customizable Small Business Saturday marketing materials for your storefront, your social media sites, and your website. Get logos, photos, and email templates to get the message out to your clients that you are taking part in this annual event.
• Remind clients that the holiday shopping season is the perfect time to "shop small." Let them know your availability (whether in person or online) for purchasing holiday gift certificates. (And that you appreciate their support to "shop small" all season long, even if they can't come by Saturday!)
• Now is the perfect time to announce your holiday promotions. Doing a buy 5 get 1 free promo? A new referral program? A free product with purchase? Let clients know. Take advantage of the national promotion for Small Business Saturday to help get your message out.
• Check out all that the Small Business Saturday website has to offer you, including videos on how to bring more customers to your door on Saturday (and beyond), info on improving your holiday draw, how social media can help you this season, and so much more.
• Start planning how you can get more involved with Small Business Saturday next year!
Have fun and good luck!
—Karrie Osborn is senior editor at Associated Bodywork & Massage Professionals.