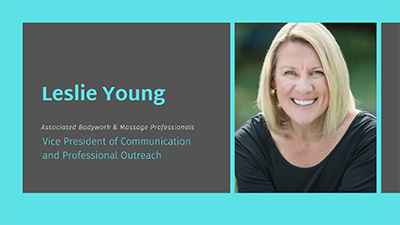 This time last week I was at the 2019 World Massage Festival in North Carolina, celebrating the profession with more than 700 massage therapists from around the globe. So I missed the celebration back at the office as Associated Bodywork & Massage Professionals (ABMP) was named one of The Denver Post's 2019 Top Workplaces in Colorado! I can't tell you how excited I am about this honor and how proud I am of our association and our members.
Talk about a harmonic convergence! Right after the award was announced, I delivered the festival's keynote speech. This was a very special opportunity to express my gratitude for the richness of my career since I came to ABMP; I've deeply enjoyed serving our ABMP members as vice president of communication. Over the years our members—now more than 80,000 of them—have continually inspired me. In my keynote, I shared stories about how those in the massage and bodywork profession have made a difference in my life and how much I've appreciated working on their behalf to move the profession forward.
Ironically, this workplace award reflects my talking points. Since joining ABMP in November of 2002, I've often thought about how our association culture and values mirror the values of those we serve. We're supportive, creative, eclectic, and heartfelt—just like our members. They've helped set our pace as together we've fulfilled our commitment to top-notch customer service and exhibiting professionalism and integrity in everything we do. This level of commitment on all our parts is essential as massage therapy and bodywork professionals seek to provide a wealth of therapeutic sessions to eager consumers. I suppose it's not surprising that over the years we've had many employees who came to work here—and have stayed here—because they were members and our mission resonated with them.
This past year I've become our international ambassador. Yes, we're reaching beyond the borders to deliver a sense of community, professionalism, and a great deal of online continuing education to practitioners and associations abroad. This initiative, too, is inspired by individual practitioners. They want education, access to our member benefits, and our 360-support as they move their practices forward, no matter where they live. (For more information, visit www.abmp.com/AssociateVIP.)
On behalf of the team here at ABMP, thank you for continuing to inspire us. As employee-owners, we are proud to share the credit for our recent accolades with you.
Leslie A. Young, PhD, is ABMP's vice president of communication and professional outreach.