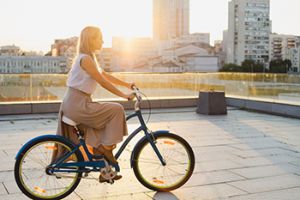 Movement provides our bodies with joyful noise—somatic noise.
Whether it's the rapid tap, tap, tap of running shoes hitting the pavement, the slow fluidity of tai chi in the park, or the youthful freedom that comes on the Friday-night dance floor, the importance of movement is undeniable and a significant spoke in the medicine wheel.
The problem is, we just don't get enough of it—and clients don't either. According to the Mayo Clinic, excessive sitting is killing us. As we've moved from an agricultural society where we labored from sun-up to sundown, we've lost our propensity for movement and are now missing out on the benefits of staying active. Today, Americans sit 13–15 hours a day. These are the majority of your clients.
Any daily movement can put us back on the right track. When my daughter's low-back pain was interfering with her competitive sport, her most awesome massage therapist suggested she find some joyful somatic noise of her own by moving her hips with complete abandon a few times a day—a combination of Chubby Checker's "Twist" and her own authentic movement to loosen the muscular binds. It was a retraining of sorts for those muscles caught up in their static pain.
Author Jenny Hastings's recent Massage & Bodywork column, "Dance, Dance, Dance," is a great reminder for both therapist and client that daily movement is important to health, and that something as joyous and youthful as dance can be good medicine for us all.
For a movement and self-awareness exercise for your clients, send them this link:
www.bodysensemagazinedigital.com/i/879590-autumn-2017/11?.
For your own movement self-care, read Hastings's conversation about authentic movement, and watch the webinar from Heath and Nicole Reed about healing moves.
Make some joyful somatic noise of your own today and get moving!
—Karrie Osborn is senior editor for Associated Bodywork & Massage Professionals.