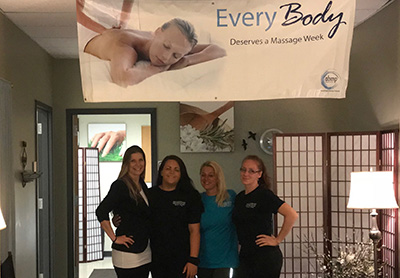 Belinda Green (at left) and her student therapists Brandi Malewski, Susan Mattison, and Elana Ilnicki volunteered their time for EBDMW
As the Massage Therapy Department Chair at Mildred Elley (Albany), I can honestly and humbly say that my students are also my teachers. One of my students brought Circle of Champs, a program dedicated to improving the life of children who have been touched with a life-threatening illness, to my attention. I am SO grateful she did. I set up a meeting to learn more about Circle of Champs and my heart was touched by the amazing people and the wonderful opportunities and resources this program offers to children AND their families. The Capital District YMCA runs the children's summer camp in addition to offering other unique and fun activities for the children and their families to experience within the Capital Region.
I was inspired by the program, and thought to myself, "How can I help?" That is when EveryBody Deserves a Massage Week popped into my mind!
It's so true! Every BODY does deserve a massage! With no time to waste, I partnered with Circle of Champs right away. With the open hearts and hands of my students, we rested our minds from studying, volunteered our time, and offered massages during this week to help raise money to sponsor a child to go to camp for one week.
And: We did it!!!!
As massage therapists, we have a gift to help others in a unique way, just like the volunteers who help and support these families. I even had the pleasure of going to camp for an ice cream sundae day! Wow! I saw the love and joy that each child brings—oh, and all the yummy treats for their sundaes.
I look forward to continuing to work with Circle of Champs, and I am blessed that my students continue to teach me.
—Belinda Green is an ABMP member and chair of the massage therapy department at Mildred Elley college in Albany, New York.