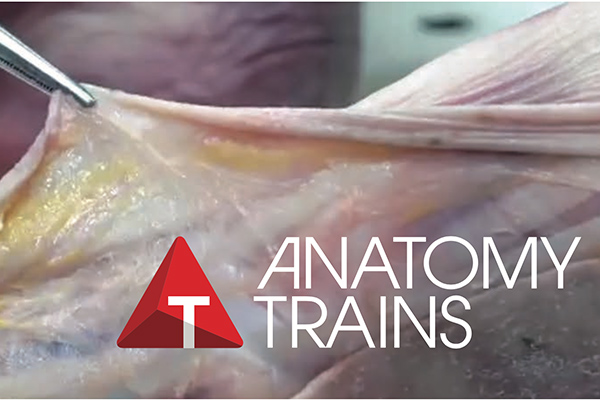 The following blog post is sponsored by Anatomy Trains.
Q&A with Thomas Myers, Director, Anatomy Trains
What separates your training and certification programs from other providers?
We offer a combination of accessible and affordable online training, as well as certification programs worldwide in weekend or weeklong intensives. We offer our flagship Structural Integration programs in the US, Australia, Europe, Japan, and China.
What distance learning opportunities are you currently offering to therapists?
We currently offer frequent live online webinars and an extensive on-demand learning library, which consists of streaming video programs and quizzes (for most) to test for student understanding. Students can also obtain continuing education (CE) credits. Our most popular programs include BodyReading, Anatomy Trains in Structure and Function, and our Dissection Livestream events.
How did you modify your approach to training and education in the current environment?
Like so many others, we provide live online webinar courses to foster community, connection, and a sense of shared purpose. We also have a MasterClass series with industry leaders including Robert Schleip, Neil Theise, Tom Myers, Bonnie Bainbridge Cohen, Eric Franklin, Meredith Stephens, Julie Hammond, David Lesondak, Peter Levine, Andrez Pilat, Jaap van Der Waal, Wojtek Cackowski, Jill Miller, and James Nestor.
Your Dissection Livestream courses seem to be a rather unique educational offering for massage therapists and bodyworkers. What are the benefits?
Tom Myers and master dissector Todd Garcia have worked together on fascial dissection projects for 16 years, building an extraordinary educational program that is serious and reverent, holistic and practical, and uniquely eye-opening for those who learned anatomy from books. Students get to look over Todd's shoulder as his consummate skill unfolds the miracle of the body, coupled with Tom's expert commentary drawn from fascial research, evolution, embryology, and 45 years of a wide-ranging manual and movement therapy practice. We use untreated cadavers for authentic movement and real-life anatomy, and we assembled the course and equipment to give students as close to a live experience as possible (natural color, full range of motion, and 3D views) with applications to therapy and training.
What's new on the horizon for Anatomy Trains?
We are extremely excited to announce we have two 5-day, in-person dissection workshops scheduled for January 2022 at the Laboratory of Anatomical Enlightenment in Boulder, Colorado, with new technology to amplify the student experience!
For more information, visit anatomytrains.com.