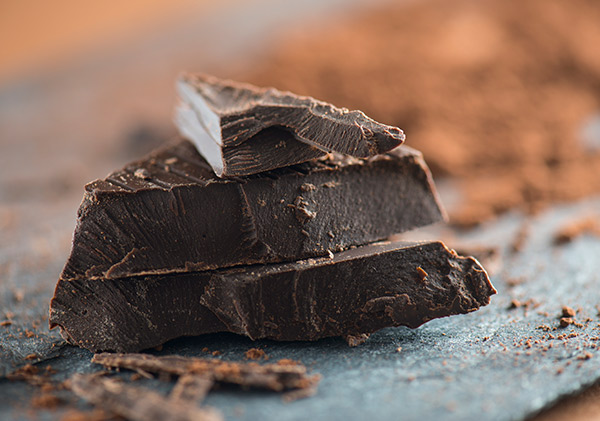 Chocolate lovers rejoice! Your wish has come true. Dark chocolate really is loaded with nutrients that can positively affect your health; it's also one of the best sources of antioxidants on the planet. While the research doesn't show the same benefits for milk chocolate, there's still enough reason to celebrate. Read on for the benefits and a recipe for mouthwatering dark chocolate chip cookies!
Sun Protection
Flavanols, bioactive compounds found in dark chocolate and other antioxidant-rich foods, are great for your skin. They can protect against sun damage, increase skin density and hydration, and improve blood flow to the skin.
The minimal amount of UVB rays required to cause skin redness 24 hours after exposure is called the minimal erythemal dose (MED). In a study published in The Journal of Nutrition, those who consumed dark chocolate high in flavanols for 12 weeks saw the amount of UV-induced erythema decrease significantly compared to those who didn't consume any.1
Evaluation of the skin surface after 12 weeks also showed a significant decrease of skin roughness and scaling, offering even more evidence that dark chocolate provides skin health benefits.
Improved Cognitive Function
Dark chocolate may also improve function of the brain. The same flavanols that are responsible for the benefits seen after sun exposure may also have beneficial physiological effects, especially as it relates to vascular function.
A pilot study that evaluated the relationship between blood flow to the brain and a single dose of flavanol-rich cocoa showed increased blood flow to gray matter in the brain, suggesting that cocoa flavanols may be beneficial for treatment of stroke and dementia, though more research is needed.2
How Much?
Here is a breakdown of what you get with this sweet treat: 3.5 ounces (or 100 grams) of quality dark chocolate with 70–85 percent cocoa contains 11 grams of fiber, 57 percent of the recommended dietary intake of iron, 58 percent of magnesium, 89 percent of copper, and plenty of potassium, phosphorus, zinc, and selenium. Unfortunately, that amount also contains 600 calories and a moderate amount of sugar.
It's why dark chocolate, even with the health benefits, should be consumed in moderation. You'll still get some benefits with smaller pieces; for maximum flavor impact, place a small piece of dark chocolate in your mouth and allow it to slowly melt. Biting down on the chocolate may make it taste more bitter.
Notes
1. Ulrike Heinrich, et al., "Long-Term Ingestion of High Flavanol Cocoa Provides Photoprotection Against UV-Induced Erythema and Improves Skin Condition in Women," Journal of Nutrition 136, no. 6 (June 2006): 1565–1569.
2. S. T. Francis, et al., "The Effect of Flavanol-Rich Cocoa on the fMRI Response to a Cognitive Task in Healthy Young People," Journal of Cardiovascular Pharmacology 47 Supplement 2 (2006): S215–20.
Dark Chocolate Chip Cookies
These flour- and refined sugar-free treats are a great way to enjoy dark chocolate for dessert.
Ingredients
2 cup walnuts, chopped
2 cups pecans, chopped
2 cups old-fashioned rolled oats
1 1/2 teaspoons baking powder
1 teaspoon salt
1 teaspoon cornstarch
1 tablespoon ground flax seeds
3 tablespoons water
1/2 cup extra virgin olive oil
1/2 cup pure maple syrup
1 teaspoon vanilla extract
1 cup 70% dark chocolate chunks
Directions
Preheat oven to 325 degrees F.
Put walnuts and pecans in a food processor and pulse until finely ground (you may need to alternate in batches depending on how large your food processor is). You don't want it to be butter, but it should resemble crumbs.
Transfer nuts to a large bowl and place oats in a food processor and pulse a few times to break them down.
Place the oats into the bowl with the nuts along with the baking powder, salt, and cornstarch.
In a separate bowl, whisk together the ground flax seeds and water and let sit until gelled, about 5 minutes.
Add the oil, maple syrup, and vanilla extract to the flax seed bowl and whisk together.
Stir the wet flax-oil mixture into the nut and oat mixture and stir to combine. Gently fold in chocolate.
Using a cookie scoop (or 1/4 cup measuring cup), scoop out dough and gently press together and flatten with your hands. They might crumble a bit but should form into a cookie once pressed together.
Place on lightly greased baking sheets and bake for 15 minutes until golden brown, checking after 10 minutes. Let cool completely before serving.