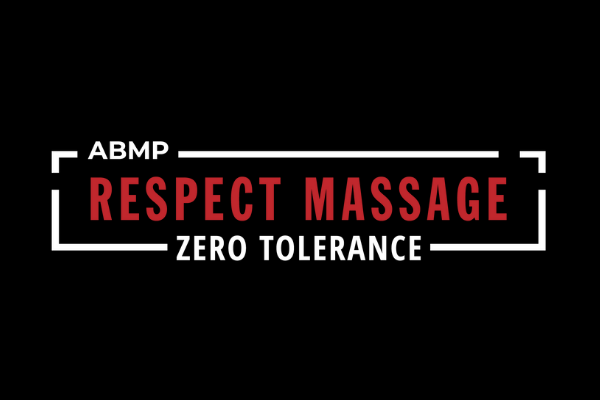 Associated Bodywork & Massage Professionals (ABMP) is proud to bring RespectMassage.com into its family of educational resources for the profession, and to introduce a revamped RespectMassage.com website and mission produced in partnership with founder and massage therapist Joyce Gauthier.
RespectMassage.com was originally created by Gauthier to empower massage therapists to make it clear they do not mix sex and massage, and educate the massage therapy community to spot, deter, and escape from clients soliciting sex.
"In nearly a decade of practice, I have been confronted with people not taking massage seriously, thinking it's OK to make jokes about my chosen profession," Gauthier says. "I have encountered uncomfortable situations and heard stories from other therapists about unwanted sexual solicitations, and I saw this as an opportunity to unite the profession against these stereotypes and give massage therapy the respect it deserves."
Gauthier's firm and transparent stance on zero tolerance for sexual solicitations has reached the RespectMassage.com community through honest blog posts, powerful videos, and a comprehensive continuing education (CE) course.
After learning about RespectMassage.com, ABMP invited Gauthier to record a podcast episode in March 2021, and Gauthier followed up with the article "10 Steps to Secure Your Practice," featured in ABMP's Massage & Bodywork magazine.
"Joyce's message resonated with the team here at ABMP because our members know the situations that she describes all too well," says ABMP President Les Sweeney, LMT. "Massage therapists and bodyworkers should feel proud of their work and safe in their treatment rooms, and we hope this effort helps to that end."
As the time came for Gauthier to pursue a new step in her life and career, it was a logical transition for ABMP to take the reins and help continue the message and the work of RespectMassage.com. While Gauthier has moved to a new phase in her career, her inspirational voice continues to empower massage therapists and energize the Respect Massage movement.
"We are grateful to Joyce for her initiative in starting RespectMassage.com, and we are excited to take the next steps in spreading her positive message to a larger audience," Sweeney says.
ABMP will continue the RespectMassage.com effort, bringing in voices from across the profession to continue to educate and empower massage therapists and deter solicitors so the profession we all love can move past the stigma created by unsavory and illegal actors.
RespectMassage.com is about celebrating all the amazing things that massage is, while creating clear boundaries about what massage isn't. We invite all massage therapists and bodyworkers to read the articles, watch the videos, download the free marketing materials and client resources, take the CE course, and join together in community.
How to Get Started with RespectMassage.com
PROTECT YOU AND YOUR PRACTICE FROM SOLICITORS
Take the ABMP Respect Massage CE course, "Ethics: Create A Zero-Tolerance Practice," for a complete list of 30+ red flags, how to spot sexual solicitors before they are on your schedule, excuses to get out of dangerous solicitations, plus real–life practice scenarios to test how you would react when your boundaries are challenged.
THE LOGO WORKS
Protect your business with the Respect Massage logo. Use it as a deterrent for sexual solicitors. The Respect Massage Zero Tolerance logo makes it clear that your business is not a parlor and does not provide illicit services.
SHARE THE #RESPECTMASSAGE MOVEMENT
Share RespectMassage.com and information with other massage therapists and bodyworkers you know. We can shut down sexual solicitations if we stand together and know what to look for.