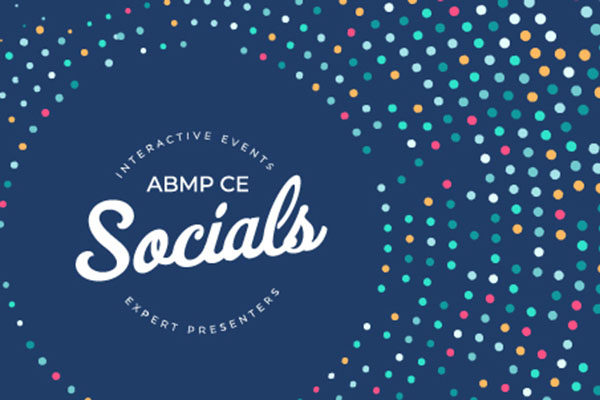 Connect and engage with your massage community, experts in the field, and ABMP as you learn and earn CE with our new ABMP CE Socials event series at www.abmp.com/ce-socials!
These interactive experiences will allow attendees to join us live in our virtual classroom to interact with course instructors and fellow attendees in our community chat while learning valuable new tools for your practice. During each ABMP CE Socials event, you'll have the opportunity to submit questions to the presenter in the chat room, and after the course, the instructor will be with you via live video feed for a Q&A session.
The first event takes place Wednesday, February 24 and features the popular new course "Introduction to Oncology Massage: Part 1" from Healwell's Cal Cates and Kerry Jordan. Events are free for ABMP members and $15 for non-members, and registration includes live event access, your CE certificate, and ongoing access to the course in the ABMP Education Center. You can register at for the event here.
"Introduction to Oncology Massage: Part 1" covers topics including metastasis and cancer-related conditions, including lymphedema and deep vein thrombosis. Explore some of the myths regarding massage therapy and cancer. Discover the critical intake questions therapists should be asking all clients and learn how to apply the answers you receive to ensure you're providing a safe session. This in-depth introduction will help you determine whether you're interested in additional training in this unique modality.
Stay tuned for future ABMP CE Socials announcements, and stay up-to-date on CE courses in the ABMP Education Center.