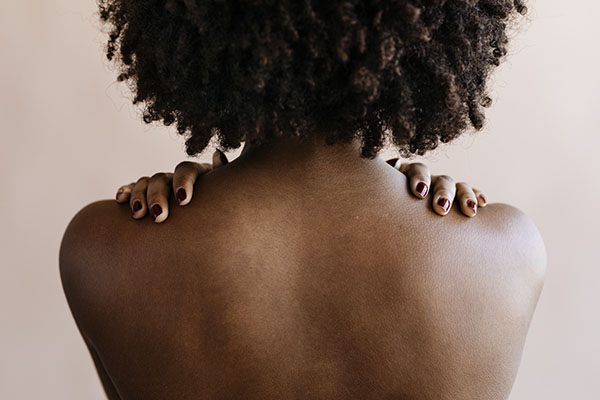 By Ruth Werner
If I say, "bullseye rash seen with Lyme disease," I bet you can picture that in your head: a pink or reddish circle without flaking or scaly skin. Cool. But what does it look like on dark skin?
If I say atopic dermatitis or eczema, what do you see in your mind's eye? Knuckles or knees with itchy, reddened, flaky patches? OK, but what does it look like on someone who is Black? (Hint: really different.)
You probably have seen pictures of COVID toe. Have you seen it on Black or Brown toes—even though those populations are disproportionately affected by the infection?
Among about a gazillion other things, 2020 has shone a stronger-than-previous spotlight on systemic racism in the United States, and how inherently biased approaches to many aspects of life in our culture favor white people—whether they know it or not.
The field of health care is not "immune" (see what I did there?) from these biases. Indeed, it is rife with measurements, standards, treatment options, and expectations that are tied to white skin and the privileges associated with it. From access to basic services to differences in the way chronic pain is treated, the color of our skin determines many aspects of our interaction with the health-care system.
I am a pathology educator for massage therapists, and as such, I am constantly on the lookout for information that will help me be a better communicator about health. In my teaching and writing, I rely heavily on visual representations of illnesses, including photographs, drawings, charts, and other kinds of artwork. It is challenging to find representations of diseases and conditions as they manifest on the skin or visible mucous membranes of anyone who is not white. And this is important, because a lot of times when we think about certain symptoms (redness, pallor, jaundice, even cyanosis), these will appear differently in people of color—with further variations, depending on skin tone.
To add to the challenge, many health-care providers are not well-versed in recognizing visual signs in people of color, and people of color with skin problems often don't go to the doctor, or aren't treated fully when they do. This means fewer photographs of skin problems on people of color make it into educational materials, which means it is hard to become educated about this topic.
Part of my job involves looking at lots of pictures of sick people. I don't recommend it as a hobby for anyone not mentally prepared for it—a visit to Google images with the search term athlete's foot is enough to give sensitive people nightmares.
(Seriously? You just had to look, didn't you? Did you see the one with the mushrooms growing between his toes? That's not real, I promise.)
I scan through these pictures to find images I can use to convey important information about diseases and conditions. Frequently, MUCH too frequently, I can't find anything involving patients who are Black or Brown—especially in Creative Commons sources that are appropriate for sharing.
My first publisher, Lippincott Williams & Wilkins (LWW) publishes a book called VisualDx: Essential Dermatology in Pigmented Skin, edited by Lowell A. Goldsmith, MD, MPH, and Art Papier, MD. I find the title of this book a little problematic—after all, I am white and I too have pigmented skin. But by focusing on people of color, this book fills an enormous need in the medical profession. I have been grateful to be able to include some of their images in my textbook, so that readers can see skin conditions as they appear in people of color.
In preparing this blog, I found that VisualDx is now also available as an app, but it is designed for medical education and hospital settings, not for individual use. At $39.95/month it is probably not a practical line item for most massage therapists' budgets. And while the app purports to be dedicated to "An Ongoing Commitment to Equity in Medicine" on a page with samples of comparison photos, this is the caption under a photo of a person with dermatomyositis: "In dark skin, the inflammation of dermatomyositis is more subtle, and has a brown to purple color and does not look like typical inflammation." [emphasis mine]
Excuse me? Typical inflammation? Typical for whom?
Argh.
But, I am delighted to say, there are other options. A dear friend linked me to a project called Mind the Gap: A Handbook of Clinical Signs in Black and Brown Skin. It is a project based out of St. George's University of London, led by medical student Malone Mukwende, who realized he wasn't being educated to recognize the visual signs of disease in people with dark skin (including himself), and he wanted to correct that.
This isn't an ordinary handbook. It is a living, growing, work in progress. Users are invited to submit their own images of medical conditions as shown on Black and Brown skin. A team of doctors review submissions, so that eventually a large database of high-quality images will be collected and available. People are invited to join a mailing list to be updated about new images and other submissions. The project went live in June 2020, and it has already attracted international attention.
And did I mention: it is a free PDF download, available here.
And there's more!
A Twitter and Instagram account called Brown Skin Matters encourages followers to share their pictures of pathologies as they show on non-white patients. Their website is here, with this statement:
Making up for the lack of reference photos of dermatological conditions on non-white skin. For personal reference only. User submissions encouraged.
All three of these resources: VisualDx, Mind the Gap, and Brown Skin Matters, point out the importance of educating health-care providers about how various diseases and conditions affect the skin of people of color.
Mind the Gap and Brown Skin Matters are recent arrivals to the task of collecting high-quality photographs of pathologies in people of color. Being able to share their work gives me great hope for the future of being able to be an effective teacher, with images that reflect how diseases and conditions affect all of society, not just white clients. I hope that readers will use and contribute to these wonderful resources.
author bio
Ruth Werner is a former massage therapist, a writer, and an NCBTMB-approved continuing education provider. She wrote A Massage Therapist's Guide to Pathology, now in its seventh edition, which is used in massage schools worldwide. Werner is also a long-time Massage & Bodywork columnist, most notably of the Pathology Perspectives column. Werner is also ABMP's partner on Pocket Pathology, a web-based app and quick reference program that puts key information for nearly 200 common pathologies at your fingertips. Werner's books are available at www.booksofdiscovery.com. And more information about her is available at www.ruthwerner.com.