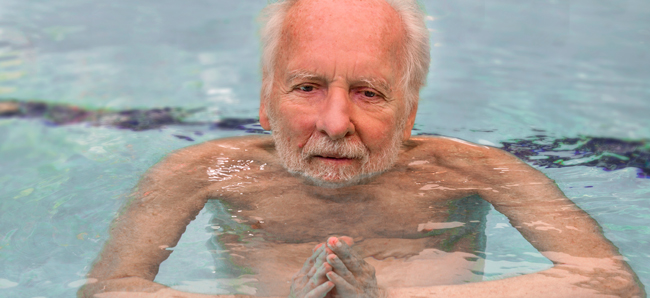 Harold Dull, the creator of Watsu, died peacefully in his sleep on July 31, 2019, at his home in Berkley, California. A simple Tibetan ceremony was held to honor Harold; additional plans include a memorial spreading of his ashes in 2020.
Harold, 83, was a poet, both in and out of the water. He was part of the San Francisco Renaissance of the late '50s—what he called "an exciting scene"—where he spent time with fellow poets like Jack Spicer and Robert Duncan developing his craft. When he discovered Zen shiatsu some years later, and then brought that work into the water, the poetic bodywork known as Watsu was born.
Harold and his work were featured for the last time in the July/August 2018 issue of Massage & Bodywork. Shortly after photographing Harold in the pool for the last time, a tumor was discovered and he underwent a laryngectomy, which required him to breathe through a stoma in his throat. Since September 2018, Harold was unable to speak, drink, or eat. And sadly, was never able to go back into a pool. At the time, Harold wrote me: "The support of my family and my Water Family has been great."
We share our sadness with the Watsu community, Harold's family, and all who knew his gentle way. The profession has lost one of its great innovators.
Please keep the Dull family in your thoughts, and feel free to visit the link below to show your support: