The following blog is sponsored by Hand & Stone Massage & Facial Spa.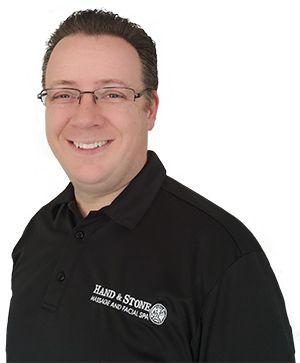 Nathan Nordstrom, BCTMB, Director of Hand & Stone Massage Therapy Training
What motivated you to become a massage therapist?
I love helping people. I have been the person who reaches out to someone in need many times in my life and felt so much joy in simply being able to help. When I found out that massage therapy was a career, I knew I would love to help people every day become a better, more relaxed version of themselves.
What did you do before massage therapy?
This is my first career. I graduated from high school, went on a church mission for two years, and then went to massage school. After that, I realized I loved this profession and have held many positions in the massage profession.
Where have you worked as a massage therapist?
I have worked as a massage therapist in almost every conceivable venue—sports massage clinics, resort/destination spas, day spas, schools, outcall, and a hospital, and I am so grateful to now be working with Hand & Stone Massage and Facial Spas.
Why did you decide to work for Hand & Stone?
Many years ago, I realized that the therapeutic relationship of a massage client and massage therapist required an important ingredient: trust. When I went into my first Hand & Stone, I realized that from the time you walk in the spa you are respected, engaged, and empowered to ensure this experience is the best you can have. From the greeting of the spa associate at the front desk to the attention to detail from the happy and supportive massage therapist, I knew this was a place where I could see myself working.
What has been your most rewarding professional experience?
I have had the opportunity to teach, coach, and mentor massage therapists across the country as a massage educator. For me, the most rewarding experience is being able to help a massage therapist realize they can be the best part of a person's day, week, or even month. That really reminds me why I love working for a company that does all the other work in running a business.
What have been the keys to your success as a therapist?
Always working to help others improve, empowering the client to be a part of the therapeutic relationship, and most of all, taking the time to be present with each client.
What advice do you have for new therapists just starting out?
Find what you love to do. That will make every day you work a joy. Even when other things may not be going right, it is important to be grounded in your career as a massage therapist.
For more information on Hand & Stone careers, visit www.handandstonecareers.com.