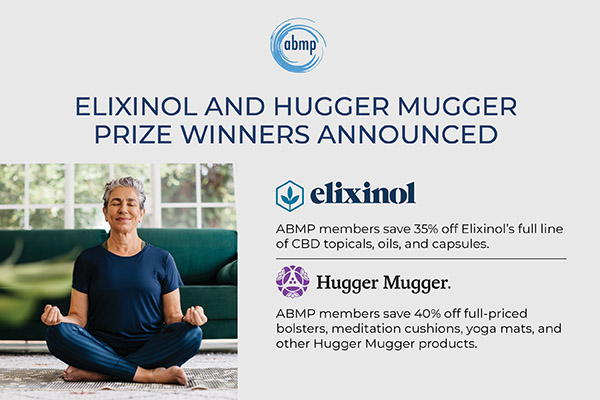 ABMP partners Hugger Mugger and Elixinol gave away prizes worth more than a combined $900 in July.
The winners were announced recently, with Jane Andrews winning a $500 gift card from Elixinol and Courtney Jordan winning more than $400 in yoga, meditation, and wellness favorites from Hugger Mugger.
The prize package from Hugger Mugger includes an Ultimate Cushion Yoga Mat, a Standard and Junior Bolster in the new EZ Clean material, and a V-shaped Meditation Cushion.
Elixinol offers a variety of hemp products, including CBD, THCV, and delta-9 supplements available in oil, capsule, topical, and gummy formats.
ABMP members save 35 percent off Elixonol's full line of CBD topicals, oils, and capsules.
ABMP members also save 40 percent off full-priced bolsters, meditation cushions, yoga mats, and other Hugger Mugger products.
Check out these discounts and more than 50 others at abmp.com/discounts.