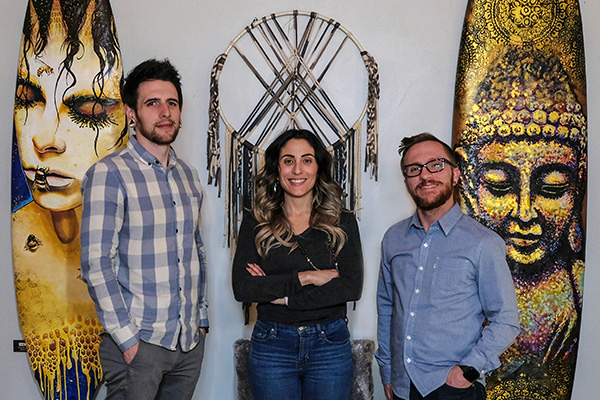 Bryce Conley, Shauna Blanch, and Will Parker, Co-Founders, Color Up Therapeutics
The following blog post is sponsored by Color Up Therapeutics.
How did Color Up get its start?
The Color Up Therapeutics concept began when Bryce, Will, and I met through the cannabis industry in 2013. It wasn't until February of 2015, though, that we registered our business, turned our home into our office, and really got down to business. Though we'd been working with the cannabis plant for many years, and I spent over a decade in the pharmaceutical industry studying dermatology and internal medicine, we still wanted to be sure we were educated from every angle before offering answers. We began attending medical cannabis conferences, frequented trade shows, and Will and I both went back to school. This research instilled an even deeper desire to educate the community, so that's exactly what we did. Along the way, I began my program at Denver Integrative Massage School, and we would formulate CBD-infused oils, lotions, and salves for the other students and me to use while practicing.
The school's owner got a hold of some of our salve, loved it, and decided to bring the products into her student clinic. She also asked us to begin educating about them at the school. The rest is history.
What sets your products apart from other CBD products and suppliers?
Our products are unique in that they go through a three-step process before they ever reach the market. First, every ingredient is thoroughly studied and approved by our biologist for biocompatibility and availability both on and within the body. Second, each ingredient is checked by our chemists to ensure quality and stability before the products are formulated. Third, the formulations are used by all the company massage and skin care professionals, as well as students that practice in the Color Up CBD Wellness Center. Everything is created and produced in our lab located in the Wellness Center, so our scientists and service providers are always working together to bring creative ideas to fruition. Our professional line is also oncology-approved by Oncology Spa Solutions, and each formulation is clean enough to use on clients with compromised immune systems.
Many therapists are pursuing additional training and education while practicing at a reduced level or not at all. Do you offer any educational opportunities for therapists?
We offer an extensive online Master Program for the professional and a Student Master Program for those who are currently in school and looking for more knowledge on cannabis and its benefits during and after massage. When the social climate allows, we host hands-on classes at the Wellness Center in Denver, travel to different spas and schools around the country, and we have an education team that is available to customize training to your services and business model. We created different levels of education tailored to each stage of the profession.
What's on the horizon for Color Up? Any new trends or products you're excited about?
We are expanding our internship program through the end of 2020 and into 2021, giving massage students an opportunity to work in a professional setting while learning from top CBD and cannabis educators and practitioners. They are learning what it looks like to own their own practice during this time when COVID-19 is so prevalent and we need to take extra steps to ensure the safety of our community. We also just got our first NCBTMB class approved and will continue to offer more of these CE classes. We'll continue to expand our online offerings and also fulfill some of the requests we get for teaching in other locations.