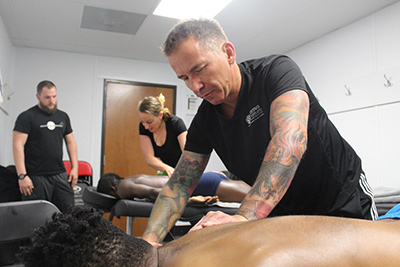 Cortiva Institute Graduates Marc Marlowe and Amy Eberbach perform massage on two Phoenix Rising players
Making it to the "big leagues" in the sports massage therapy industry can be a challenge. But Cortiva Institute—the nation's largest massage school—is giving its students a leg up through a brand-new partnership with Phoenix Rising Football Club, the city's professional soccer team.

Under the supervision of Phoenix Rising's Head Athletic Trainer Brennan Hodge, students and graduates from Cortiva Institute's Scottsdale campus will work directly with players, using massage techniques proven to help athletes prevent/recover from injuries and increase performance on the field. The program is a testament to the school's high-quality, hands-on, accredited training that prepares students to enter this in-demand field.
"Athletic teams have been utilizing the game-changing, science-backed benefits of massage for years," says Steve Salzinger, president, Cortiva Institute. "This is not only a boon for players but also creates unprecedented career opportunities for health-and-wellness-minded individuals."
Hodge is pleased with the quality of the students from Cortiva. "In practice and during games, our players give it their all, which can stress their muscles, ligaments, and connective tissue," he says. "I'm impressed the Cortiva Institute students we're working with have the skills and training to help professional athletes get back on the field faster and play longer and harder."
"The hands-on training I received from the experienced staff at the Scottsdale campus set me up for success," says Amy Eberbach, a Cortiva Institute graduate currently in the program. "Now that I'm able to combine my classroom education with experience helping professional athletes, I'm confident I'll have what it takes to secure a fulfilling career in my field of choice."
Phoenix Rising is just the beginning—in the years ahead, Cortiva Institute plans to forge similar partnerships with other pro teams across the country.
For more information on Cortiva Institute, please visit www.cortiva.edu.
For more information on the Phoenix Rising FC, visit www.phxrisingfc.com.