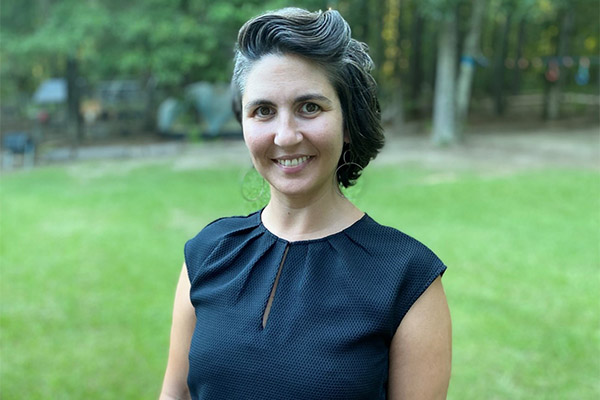 By Lisa Bakewell
Camille DeSantis was one of the winners of ABMP's Massage is for EveryBody 2022 contest, and we wanted to share more of her story, which exemplifies the inclusive values of this campaign. Please join us in celebrating Camille!
There can never be enough education surrounding the benefits of massage for those currently dealing with cancer, going through treatment, or who have beat the disease, says Camille DeSantis, owner of Mending Tree Massage in Sterret, Alabama. DeSantis is passionate about teaching survivors, physicians, physical therapists, and cancer organizations about how massage plays a role in wellness, health, and lessening the burden of treatment for cancer patients.
"I think massage is still often viewed as, at best, a nice spa service, and at worst, potentially dangerous for someone with a medical issue." She says there are certainly, some contraindications and precautions when working with cancer patients, depending on the client and diagnosis, but outside of those, massage can be a huge asset, particularly to cancer survivors. "I know this firsthand and as a trained professional," DeSantis says. "So many people in my community do not. I really hope to help change this in my tiny little world, and perhaps inspire others to learn more and spread the word."
DeSantis encourages other practitioners to become more educated about oncology massage, though technique is not the first lesson she'd recommend learning. Instead, her first piece of advice is simple: "Never tell a cancer survivor that massage is not safe for them. If you are untrained in oncology massage, tell your client that, but let them know that others do have this knowledge. Encourage clients to search for an oncology-trained massage therapist in your community who can safely support them. Better yet, do your own search and introduce yourself to some of these therapists so you can make a personal referral."
Still, DeSantis feels all MTs should get some oncology training, even if they don't feel comfortable working with cancer survivors or do not have interest in doing that work. "There are several introductory courses you can take to broaden your perspective. There's no doubt that oncology training can inform your work—even if you choose not to work with this population," she says.
Positive Physical Impacts of Massage Therapy for Patients with Cancer
Although massage therapy can positively impact the mental and emotional health of a heavily medicalized cancer survivor, DeSantis says she prefers to "stay in her lane" by focusing on the physical benefits of massage for cancer patients, including:
Improving fascial restrictions resulting from surgery and the effects of radiation. Radiation causes muscular contracture in the area treated, which can cause a sense of pulling even beyond the targeted area. A massage therapist working with a myofascial focus can support the body in unwinding and help to return length and greater range of motion to the area that has been impacted.
Relieving lymphedema from surgery or radiation and/or neuropathy from chemotherapy. A massage therapist with manual lymphatic drainage training can offer great relief to a survivor dealing with swelling from lymphedema.
Reducing pain from thickened scar tissue along surgical incisions. While scar tissue cannot be eradicated, it can be softened and changed. A massage therapist can work along the area of scar tissue to help soften it and enhance comfort by lessening its pull.
Expanding range of motion. A cancer survivor may have restricted range of motion due to inactivity over the period of treatment and surgical intervention. In working with the soft tissues of the body, massage therapy can positively impact and expand this range of motion, helping clients regain a fuller range of movement.
Today, as a cancer mentor, DeSantis educates others about oncology massage in her own cancer survivor support group, at a local breast cancer organization, and in her business marketing. "I always extend one free massage to all breast cancer survivors in active treatment," she says. "The funds from the ABMP grant have allowed me to grow that program for this underserved population."
DeSantis plans to continue her support group for breast cancer survivors well into the future, hoping for an evolution that includes more regular meetings as well as a co-host who can help her manage social media activity, additional events, and speaker invitations. "I would love to see community involvement in sponsoring survivor lunches and support from the medical community in hosting 'walk with the doctor' events," DeSantis says. The walks provide an opportunity for survivors to be in nature and move their bodies and ask questions and build positive relationships with local members of the medical community.
On the other side of cancer, DeSantis says she can't do it all—and no longer tries to—so she's hoping to find someone who might share her vision. "It is so rewarding," she says, "to see survivors come into my treatment room looking fatigued and overwhelmed, complaining of pain and restriction, and then see them stand taller, broader, and with an expression of relief and radiance after the session."
For more information about DeSantis's work, visit mendingtreemassage.com.
Related content:
• Massage is for EveryBody is ABMP's annual celebration of massage therapy and the philanthropic efforts of our members. Read more about the event, and the guiding principles that drive it.
• Read the winning essays from 2022's Massage is for EveryBody celebration.
• Enter your own essay or video submission for the 2023 Massage is for EveryBody event.