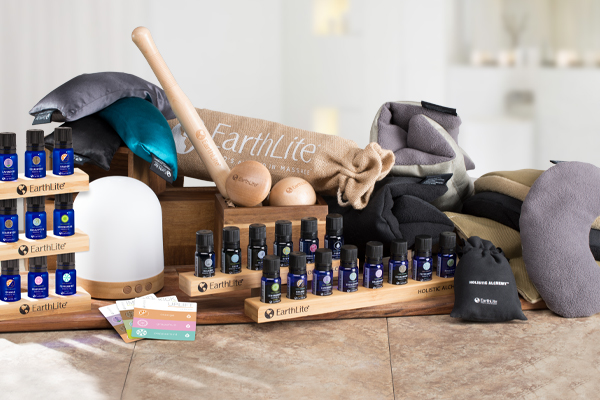 The following blog post is sponsored by Earthlite.
Tell us how Earthlite got started. How long have you been in business?
In 1975, Earthlite's founder, Tomas Nani, was a student at the Florida School of Massage. "In those days," Nani says, "there were few massage table manufacturers. We had to get our materials any way we could. The first table I made was for a classmate. It was a beauty—a Douglas fir frame, Naugahyde cover, and foam pulled from an old couch. It must've weighed 50 pounds! My love for woodworking and my desire to help other therapists heal humanity through touch fueled me. In 1987, Earthlite was officially born. As happy customer referrals started to pour in, I knew we were doing something right."
What makes Earthlite different than other brands for massage tables and supplies?
Our guiding principles are at the core of what we do at Earthlite, which manifests in our environmental policies and our commitment to our employees and the global community. More than once, our values compelled us to respond to global disasters through charitable donations and outreach. We are committed to continually offering quality products with sustainable woods, water-based finishes, and a net-zero carbon footprint—while making our products affordable for practitioners worldwide.
Do you offer products to help therapists practice safely and ensure client safety?
Yes. Earthlite released a new line of COVID-19 protective equipment for everyday practice (even post-COVID) in direct response to the need for facilities and practitioners to protect their clients and employees. Included are Stretch Guard Silicone Facepillow Covers, table covers, disposable and washable coverings, and the Safe-Guard Treatment Shield.
What products or supplies are you excited about right now?
We are excited about Earthlite's new Holistic Alchemy™ product line, a consciously crafted collection of organic and natural products to inspire well-being. It includes pro treatment and self-care products that support health and wellness, like eye pillows, neck wraps, and comfort packs; essential oils and blending kits; shower mists; diffusers; and reflexology tools. We are also proud of our reformulated massage oil, cream, and lotions for superior performance at affordable prices, and our CBD massage oil, which is blended with organic CBD (at therapeutic levels) and enhanced with arnica and essential oils.
What's new on the horizon for the Earthlite?
The Earthlite Wellness Practitioner Program is designed to support massage therapists and wellness practitioners in growing their business without taxing their bodies. Our program provides professional massage and spa treatment products for the practitioner and includes an exciting opportunity to earn income when recommending self-care products for at-home benefits.