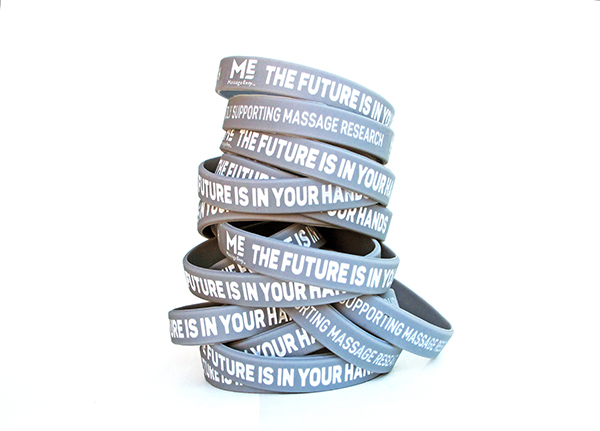 The following blog post is sponsored by Massage Envy.
Massage therapy research is evolving, and studies from the Massage Therapy Foundation are deepening our understanding of the effects of massage therapy on issues from chronic pain disorders to outpatient cancer care. But it's not just about clients. Massage therapy research is also tackling topics like therapist self-care and ways to help massage therapists practice their craft more safely. Evidence-based research like this advances the massage therapy profession and empowers therapists to enjoy longer, more fulfilling careers. And that's really at the heart of the Massage Envy 2019 #BANDINGTOGETHER initiative.
As the largest collective employer of massage therapists, Massage Envy franchisees are investing in research to help massage therapists improve the quality and length of their careers, no matter where they practice. Wristbands, each representing a dollar donated to the Massage Therapy Foundation from Massage Envy franchisees, are being handed out at all national events where the Massage Envy brand is represented in 2019.
At the International Massage Therapy Research Conference in Alexandria, Virginia, last month, school owners, Massage Therapy Foundation trustees, thought leaders, and educators received #BANDINGTOGETHER wristbands as part of the initiative. Doug Nelson, president of the Massage Therapy Foundation, thought they were a perfect fit for the event. "These bands are the perfect way to call attention to the importance of supporting evidence-based research. After attendees heard all of the research presentations, they walked away wearing a reminder that it takes ongoing investment to fuel the projects that lead to the depth of findings shared at the conference. As others see and ask about the wristbands, they will begin meaningful conversations across the country." When it comes to advancing the massage therapy profession through research—to benefit therapists and clients alike—we're #BANDINGTOGETHER.
Follow Massage Envy Careers on Facebook to see how we're #BANDINGTOGETHER throughout 2019 to support the research that benefits this vitally important profession.
About Massage Envy Franchising, LLC:
Massage Envy Franchising LLC, based in Scottsdale, Arizona, is a national franchisor and, through its franchise locations, is the leading provider of therapeutic massage and skincare services, and proprietary assisted stretching service, Total Body Stretch. The Massage Envy franchisees are, collectively, the largest employer of massage therapists and estheticians, with more than 35,000 dedicated wellness professionals that provide best-in-class service to over 1.65 million members. Founded in 2002, Massage Envy Franchising (MEF) LLC has more than 1,180 franchise locations in 49 states that have together delivered more than 100 million massages and facials. Each individual franchised location, not MEF or any of its affiliates, is the sole employer for all positions posted by a franchised location, and each individual franchised location is not acting as an agent, for MEF or any of its affiliates. Hiring criteria, benefits and compensation offered at each independently owned and operated franchised location will vary and not all locations offer all of the above benefits. Please check with the specific franchised location where you apply regarding the benefits they offer.