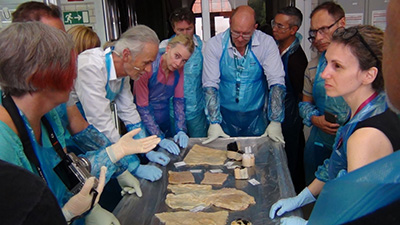 Robert Schleip, PhD, (left, center) examines fascial plastination specimens
The relationships in the massage and bodywork professions are as intricate as the body's own fascial network. The Fascia Research Society's Rachelle Clauson shared the exciting news with us that Robert Schleip, PhD—one of the world's leading experts in fascial research—is coming to the United States next month to teach for the first time in a couple years. Schleip is cofounder of the Fascia Research Society and the Fascia Research Congress. For ABMP's Leslie A. Young, PhD, one of the high points of the 2018 Fascia Research Congress in Berlin in November was reconnecting with and learning from Schleip.
Clauson helped host the Human Fascial Net Plastination Project at the congress and coordinated an ABMP sponsorship of this groundbreaking exhibit. She is excited to attend Schleip's upcoming workshop and describes it as "wildly informative and practical." The two-day course includes researchers and practitioners from the fields of bodywork, exercise, sports medicine, and movement.
To learn more about the Human Fascial Net Plastination Project, check out Clauson's feature in the September/October 2018 issue of Massage & Bodywork.
There are a limited number of spots available in this maximum 80-person opportunity. For more information, visit www.ncepfitness.com/fascia.
Fascia in Movement and Sport
February 9–10, 2019
Marina Del Rey, California
$425