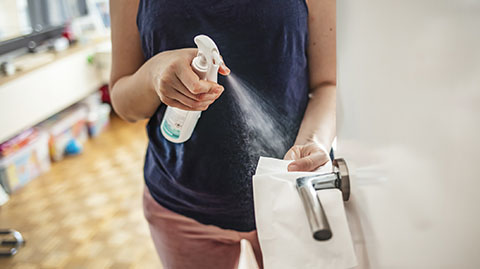 The ABMP Podcast series "Conversations in Quarantine" with Anne Williams (Massage Mastery Online)
Can we supercharge standard precautions in our massage therapy practices? And how do we do so during COVID-19, when it's more important than ever? Join a conversation with Massage Mastery Online's Anne Williams, whose new digital textbook Preventing Disease Transmission in a Massage Practice tackles a variety of safety concerns and practice protocols MTs need in our new environment.
We also check in with author, educator, and ABMP collaborator Ruth Werner about recent statements made by the World Health Organization (WHO) about asymptomatic spread.
In this podcast, you'll learn about:
Transitioning textbook learning from print to digital
Educating in the 21st century
Protecting practitioners during COVID-19, with emphasis on retail sales, cleaning protocols, the safety of masks, working with clients in our new normal, decreasing the length of sessions, and working with pregnant clients
An Annals of Internal Medicine study vs. statements made by the WHO
Self-isolation periods and length of time that COVID-19 is capable of being transmitted
Note from ABMP: As you are aware, much still remains to be learned about COVID-19, and protocols and precautions for returning to work are constantly shifting as new information emerges. After this podcast was recorded, Anne Williams sent us this update to the facemask discussion included in the podcast.
The CDC recently updated their guidelines for the reuse of N95 respirator masks based on a study showing that detectable levels of SARS-CoV-2 were present on the outer layer of a surgical mask after 7 days (Chin, 2020). The study suggests that the amount of detectable COVID was not high enough to cause infection. However, the CDC now recommends that each health care professional is issued five N95 masks. A mask is placed in a paper sack at the end of a shift and left where air can circulate around the mask for five days before it is worn again (CDC, 2020).
As massage professionals we must reconcile a number of factors as we contemplate managing our personal safety and the realities of N95 facemask availability.
Perhaps we can get hold of five N95 masks and reuse them applying the CDC recommendations and feel a high level of protection.
It is more likely that N95 masks will not be available or we are only able to get hold of one or two masks. In this case we should opt to supplement our N95 masks with heavier surgical masks. However, we must understand that surgical masks will not protect us from small particle respiratory droplets.
How high is the COVID caseload in the community? If the caseload is lower than we are at less risk of encountering an asymptomatic client and we may feel safe enough in a surgical mask. If the caseload is higher than our chances of encountering an asymptomatic client are higher and we must decide if we feel safe enough in a surgical mask.
Do we have underlaying conditions that place us at high risk of a serious case of COVID if we are exposed? If yes, we'll want to be in N95 masks if we decide to open our practices.
Maybe we are willing to practice exceptional PPE safety and we put on and take off masks properly and clean our hands if we absentmindedly touch the surface of the mask. Maybe we feel safe enough simply treating the outer surface of the mask as contaminated and handling it with a high level of caution.
Remember, when your mask shows wear or remains damp inside and no longer conforms to your face, or if you start to have difficulty breathing in the mask, it should be replaced.
1. Chin, AH., Chu, JT., Perera, MRA., et al. Stability of SARS-CoV-2 in different environmental conditions. The Lancet. April 2020. www.thelancet.com/journals/lanmic/article/PIIS2666-5247(20)30003-3/fulltext
2. Coronavirus Disease 2019. Decontamination and Reuse of Filtering Facepiece Respirators. Centers for Disease Control and Prevention. www.cdc.gov/coronavirus/2019-ncov/hcp/ppe-strategy/decontamination-reuse...
Anne Williams is the director of education and co-founder with Eric Brown of Massage Mastery Online, specializing in digital textbooks for 21st century massage therapists. Anne has been a licensed massage practitioner for 23 years, and is a former esthetician, certified reflexologist, clinical hypnotherapist, former registered counselor, aromatherapist, spa consultant, author, and educator. She is the former director of education for Associated Bodywork & Massage Professionals (ABMP), former director of education for Ashmead College, and has served on the Federation of State Massage Therapy Boards' (FSMTB) test writing committee, served as project leader for the Entry-Level Analysis Project. She is the author of Spa Bodywork: A Guide for Massage Therapists and Massage Mastery: From Student to Professional.
Ruth Werner is author of A Massage Therapist's Guide to Pathology and columnist and author for Massage & Bodywork magazine.
-----------
Anne Williams is also a former columnist and author for Massage & Bodywork magazine. Read "Is Swedish Massage Dead?" here.
"Take the Danger Out of Endangerment Sites" by Ruth Werner
This podcast is sponsored by Anatomy Trains and YoMassage.