ABMP has added two new CE courses for massage therapists and bodyworkers to the ABMP Education Center (www.abmp.com/learn). These courses are included with ABMP Professional memberships, or available for purchase for nonmembers.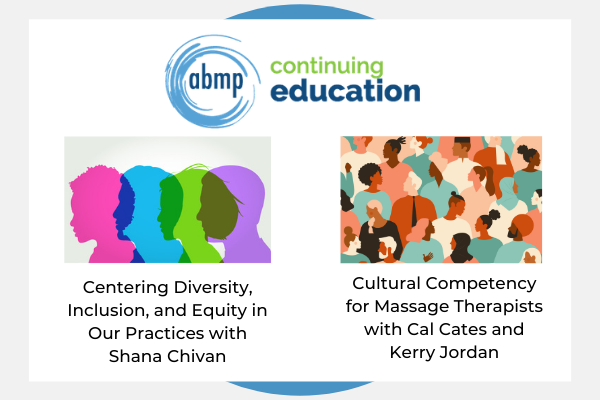 Centering Diversity, Inclusion, and Equity in Our Practices
"Centering Diversity, Inclusion, and Equity in Our Practices" (https://www.abmp.com/learn/course/centering-diversity-inclusion-and-equity-our-practices) from instructor Shana Chivon shares strategies to address inequalities that impact representation and relationships in the wellness industry, and discusses how centering communities of color and socially marginalized groups in our work creates diverse and inclusive spaces for radical wellness.
Shana Chivon is a multi-passionate change agent who carries a mandate for liberation, a heart for progress, and a desire to disrupt the status quo. As a Usui Reiki Master, a highly sought-after speaker, a racial justice educator, and a licensed minister, Shana recognizes that healing is not a linear journey and often requires a more intuitive and personalized approach. She strives to cultivate engaging environments for people to grow and thrive by going beyond love and light toward radical liberation, radical rest, radical joy, and radical wellness through education, collective care practices, and healing modalities. Learn more at www.shanachivon.com.
Cultural Competency for Massage Therapists
"Cultural Competency for Massage Therapists" (https://www.abmp.com/learn/course/cultural-competency-massage-therapists) from instructors Cal Cates and Kerry Jordan of Healwell provides an in-depth discussion of the complex concept of cultural competency, its ethical components, and how it applies to your massage and bodywork practice. Topics include unconscious bias, marginalization, intersectionality, diversity, and equity versus equality.
Healwell offers courses for massage therapists and other allied health professionals to support meaningful integration of massage therapy as well as interprofessional collaboration and the role of self-awareness in effective and sustainable caregiving. Healwell partners with hospitals and other health-care facilities to provide meaningfully integrated massage therapy in support of patients at hospitals throughout the Washington, DC metro area. Healwell collaborates with these facilities to create and conduct research about the feasibility and effect of massage therapy on people living with illness. In addition, Healwell provides fee-for-service inpatient and outpatient massage therapy. Learn more at www.healwell.org.
Cal Cates, LMT, has been teaching and developing curriculum for massage therapy courses focused on hospital-based practice, oncology massage, and end-of-life care since 2007. Their experience in clinical practice in hospitals around the US has informed their teaching style greatly. Cal is clear that massage therapy is health care and feels a personal commitment to inviting students to consider themselves as integral to a whole-person healing process. Cal's favorite thing about teaching health-care providers is the ability to blend nerdiness and authenticity to create opportunities to be more effective, more human, and more flexible.
Kerry Jordan, LMT, is a teacher for Healwell and is an essential part of the curriculum development team. She brings 20 years of experience as an instructor and has an extensive background in teaching pathology and physiology and adapting massage therapy for special populations. Before training as a massage therapist, Kerry owned and operated a successful yoga studio in Boston. She has been teaching yoga since 1999. Kerry is recognized by the Yoga Alliance as an RYT-500 and a continuing education provider, weaving the principles of yoga and meditation into her teaching and service work with yogis, massage therapists, and health-care providers.
Additional Reading List and Resources
In her presentation, Shana Chivon provides a reading list of recommended books that support the content of the course. Links to those books are provided here:
Biased: Uncovering the Hidden Prejudice That Shapes What We See, Think, and Do by Jennifer L. Eberhardt, PhD
Restorative Yoga for Ethnic and Race-Based Stress and Trauma by Gail Parker, PhD
Fearing the Black Body: The Racial Origins of Fat Phobia by Sabrina Strings
The Body is Not an Apology: Radical Self-Love for Everybody and EveryBody by Sonya Renee Taylor
Mindful of Race: Transforming Racism from the Inside Out by Ruth King
Radical Dharma: Talking Race, Love and Liberation by Rev. angel Kyodo Williams, Lama Rod Owens, with Jasmine Syedullah
All About Love: New Visions by bell hooks
Me and White Supremacy by Layla F. Saad
The New Jim Crow: Mass Incarceration in the Age of Colorblindness by Michelle Alexander