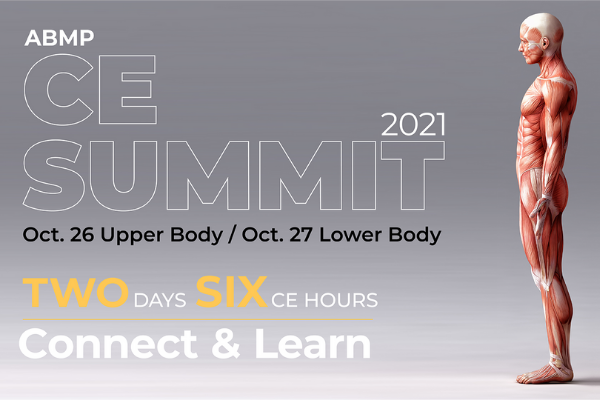 The 2021 ABMP CE Summit will take place October 26–27. This online education conference focuses on essential tools for the upper body on day one and the lower body on day two. This event—including 6 hours of CE—is free for ABMP members and just $99 for nonmembers! Don't miss this opportunity to interact with the course instructors live online, learn tools to help your practice, and connect with your massage and bodywork community!
Learn from experts in the field
Presenters include: Terrance Bonner, Cal Cates, Shana Chivon, Ericka Clinton, Kristin Coverly, Erik Dalton, Allison Denney, Joi Edwards, Paul Kohlmeier, Michele Kolakowski, Chrish Kresge, David Lobenstine, Whitney Lowe, Til Luchau, Diane Matkowski, Carole Osborne, Heath Reed, Nicole Reed, Les Sweeney, Qiana Thompson, Ruth Werner, Davonna Willis
Recap of the 2020 ABMP CE Summit
Connection. Education. Inspiration.
Last year we connected virtually with leaders in the profession to learn tools to help navigate through a unique time. All of the webinars were added to the ABMP Education Center after the event for on-demand viewing and CE.
"This Summit has not only armed me with technical tools and knowledge, inspired me with new ideas, and given me a sense of community, but also relieved my worry about 'losing my touch' and anxiety about how I will best be of service to individuals, especially those with complex issues." —ABMP CE Summit 2020 attendee
See last year's lineup and find direct links to the presentations here or view other CE courses in our ABMP Education Center at abmp.com/learn.