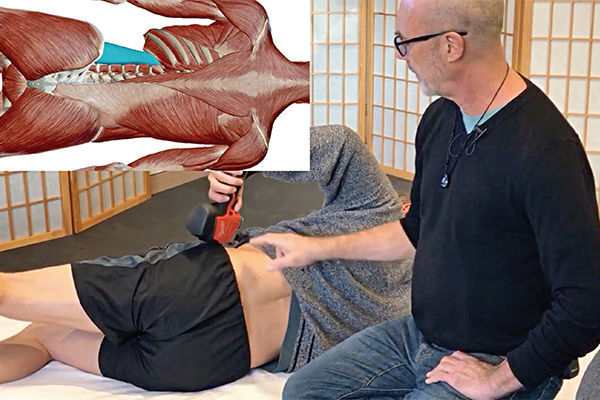 The following blog post is sponsored by Coaching the Body.
How can Coaching the Body®'s trainings and webinars support massage therapists' self-care?
I've found that an important piece of learning for both my students and me has come from understanding how to deal with the challenges we face in our own bodies. The dominant belief in medicine seems to be that pain implies injury. For example, if you have anterior shoulder pain, you might be diagnosed with biceps tendinitis. But trigger point therapists know that many muscles refer pain to the anterior shoulder, and most of them are situated elsewhere. Bottom line is, if you don't resolve issues at the true source, the pain will always return. So my work has been devoted to uncovering the satellite referral chains and functional relationships that reveal the true source of most common pain complaints—shoulder pain, sciatica, IT band pain, and so on. We've developed both self-care and bodywork techniques for all our treatments. The two go hand-in-hand, because our students can apply the techniques during therapy but also have a good idea of what to recommend to their clients to keep the pain away once they leave the treatment room.
Are your courses offered in-person, online, or a combination of both?
After 15 years of exclusively in-person teaching, we began offering parts of our curriculum online fi ve years ago. That has proven very successful, and we now offer a Coaching The Body® membership consisting of up to two years and hundreds of hours of material covering the entire scope of our work. Of course, palpation and techniques must ultimately have an in-person element, but we've discovered that there is a lot of critical knowledge that can be taught online with testing. One thing I have learned is that the greatest technique applied in the wrong place is far less effective than a less-effective technique applied at the source. This is a major reason why our online members are seeing such success in their work, even without being able to visit us for in-person study—although some do. I've also been putting a lot of time over the last year into writing a book on CTB that we expect to be published later in 2021.
What makes Coaching the Body's® offerings new and fresh, even for experienced practitioners?
I came to manual therapy from a very unusual background, so consequently our approach has many unique elements. Experienced massage therapists, PTs, OTs, chiropractors, and trigger point therapists come to us because Coaching The Body® is a radically different method of analysis and a unique combination of approaches that achieves a high and consistent level of success. A big part of this is moving from an "injury-centric" way of thinking to an understanding of how pain is generated in the brain as a response to nociceptive signals and neuroplastic changes that occur over time due to the body's natural protective response. We employ movement-based techniques, many of them derived from traditional Thai poses, as a way to downregulate the protective response, release trigger points, and regain pain-free movement. Therapeutic vibration tools, including the Muscle Liberator™, which we designed, provide a powerful form of neurological distraction, amplifying the rate and ease with which we can successfully resolve issues, and also making it far easier on the therapist's body.