Reflexology gives therapists the tools they need to take foot massage to a whole new place. Foot reflexology is the manual manipulation of points on the feet to stimulate, through subtle energy reflexes, various parts of the body as a means to promote health and well-being.
In this reflexology download, Marc Zollicoffer shares a brief overview of reflexology techniques and favorite reflex points to address with clients during a massage.
Click image to expand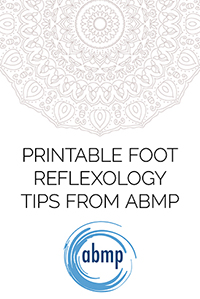 This download is part of a feature article in Massage & Bodywork magazine titled "Body & Sole: Reflexology For The Feet." To read the full article, click here.