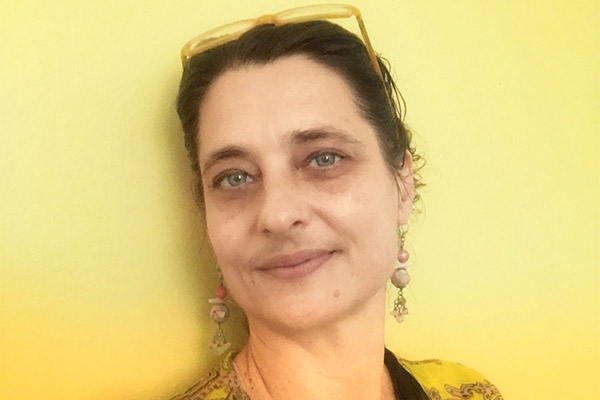 By Lisa Bakewell
Olga Chwascinska was one of the winners of ABMP's Massage is for EveryBody 2022 contest, and we wanted to share more of her story, which exemplifies the inclusive values of this campaign. Please join us in celebrating Olga!
There's still time to submit your video or essay for the 2023 contest! Simply tell us what you're doing in your practice to support one or more of the guiding principles behind the #MassageIsForEveryBody campaign for a chance to win $1,000. The deadline is August 15, 2023.
"Before I even finished school, I'd lived in three countries and spoke several languages," says Olga Chwascinska, from South Euclid, Ohio. "I finished college in the US, and a few years later, moved back to Poland. There, I taught ESL (English as a second language) and worked in translation and writing in English."
With that background, it's surprising to discover that Chwascinska made a conscious choice to escape communication when she decided to pursue massage therapy as a profession. "Massage therapy is a calling that many of us answer who are attracted to the offline work, minimal reading/writing, and ample silence," she says. "I was drawn to the profession partly because I faced a move abroad and made the assumption that I could find work without speaking the local language." And that's what she tried doing at the beginning of her career.
While living in Italy, Chwascinska limited her massage practice to only those people who spoke English—or those who could communicate with her through a translator. "Given my international childhood," she says, "I learned Italian fairly quickly. But even so, there were some awkward miscommunications along the way."
Chwascinska says communication skills are at the heart of excellent massage therapy—and growing a successful business. "From officially registering my business," she says, "to seeing 20 clients per week didn't happen overnight, but I was surprised how quickly it did happen!"
But a decade later, the COVID pandemic shuttered Chwascinska's practice. "Having to close my business was traumatic," she recalls. "I lost my entire source of livelihood and, since I lived alone, the majority of daily human interactions. I was in shock for a while, and even now—even though it has already been three years—I don't feel like I have recovered from it yet."
Chwascinska used the COVID downtime to explore "showing up" in new ways. "I worked on some ideas I had been contemplating, including teaching online. But it has been really challenging to find consistent work that feels safe, fulfilling, pays well, and for which there is an actual demand."
As Chwascinska explored her opportunities for a new livelihood, she knew empowering clients and teaching anatomy and physiology were her "passions and professional pillars." So, while building her new remote bodywork business, she also began tutoring students preparing for the MBLEx.
"I remember opening my LinkedIn on a whim, since I hadn't looked there for a moment," she says. "When scrolling through, a kinesiology instructor job popped up for me. I followed the links and before I knew it, I had applied for an MBLEx tutoring job."
And, again, communication was a factor. "I was surprised to meet so many bright nearly therapists struggling to pass this rigorous exam due to a handful of common problems: language barriers, learning challenges like reading difficulties, and very real test-taking anxiety."
She says her international students have the hardest time. Little experience with multiple-choice exams plus vocabulary shortcomings—especially in health-care jargon and kinesiology details—keep these Turkish, Puerto Rican, and German students from passing.
"Together, we work on reading skills, breaking down the compound medical terminology, and fine-tuning test-taking strategy. We further build their confidence with bodywork tools: Marma point self-massage helps focus, and breath awareness exercises can reduce anxiety. Within weeks, these aspiring, multicultural practitioners are able to pass the MBLEx, proving that they meet the scientific knowledge base expected by our medical institutions. Once licensed by their state boards, they can safely practice massage therapy and serve their diverse, often underserved, communities—in their native languages."
Learn more about Chwascinska at olgachwa.com.
Related Content