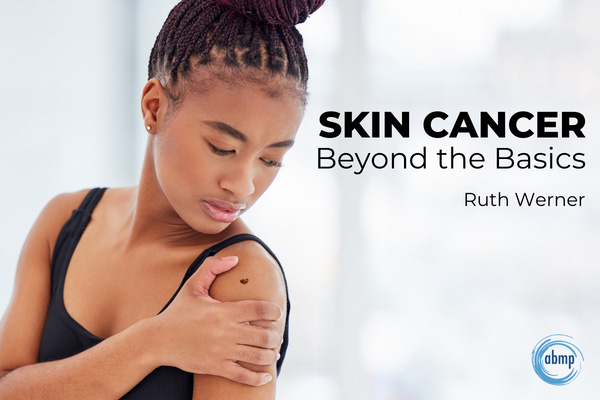 The new ABMP CE course "Skin Cancer: Beyond the Basics" is available in the ABMP Education Center to view and earn 1.5 CE hours.
Join pathology expert Ruth Werner to review and update your knowledge about the most common kind of cancer that affects humans: skin cancer. Strengthen your identification skills with a wide-ranging gallery of skin cancer examples in various stages and on various skin tones. Learn the details of each major type of skin cancer, including basal cell carcinoma, squamous cell carcinoma, melanoma, and Merkel cell carcinoma, issues around skin cancer in people with skin of color, some differential diagnoses, and the vital skill of communicating your findings to clients in ways that are non-alarmist and within your scope of practice.
After completing this online course, practitioners will be able to:
Describe the demographics, pathophysiology, and common treatment options for several forms of basal cell carcinoma, cutaneous squamous cell carcinoma, melanoma, and Merkel cell cancer.
Recognize signs of possible skin cancer that need a professional referral.
List several skin conditions that might be confused for skin cancer.
Predict risks, benefits, and decision points about massage therapy for people who have or have had skin cancer.
Communicate what they see on clients' skin without creating unnecessary alarm.
This course was added to the ABMP Education Center in conjunction with Ruth Werner's articles "Skin Cancer: A Closer Look" and "Skin Cancer and Skin of Color" in the March-April 2023 issue of Massage & Bodywork magazine.
Instructor Bio
Ruth Werner is an award-winning educator, long-time writer, and retired massage therapist with a passionate interest in massage therapy research and the role of bodywork for people who live with health challenges. Her groundbreaking textbook, A Massage Therapist's Guide to Pathology was first published in 1998, and is in its 7th edition, published by Books of Discovery. Ruth is a columnist for Massage & Bodywork magazine and Massage New Zealand. She teaches continuing education workshops all over the world and hosts the "I Have a Client Who …" podcast on the ABMP Podcast Network. Learn more at ruthwerner.com and on Facebook and Twitter @RWpathqueen. Learn more from Werner through ABMP's Pocket Pathology quick-reference app with key information on nearly 200 common pathologies.
The ABMP Education Center, where ABMP members earn free CE, is home to 750+ online massage and bodywork CE hours. These on-demand courses are available for nonmembers to purchase as individual courses or in discounted multi-course packages.