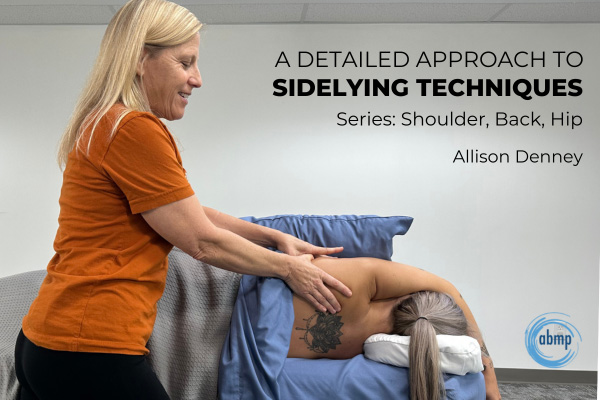 A Detailed Approach to Sidelying Techniques
Featured during the 2023 ABMP CE Summit: Sidelying event, these new courses from Allison Denney of Rebel Massage demystify the sidelying position and give practitioners effective techniques they can easily incorporate into their next session. Learn how to simplify client positioning and draping while Allison demonstrates targeted stretches and techniques—including pin-and-stretch, active engagement, and eccentric contraction—for the shoulder, back, and hip. Allison's humor, expertise, and unique teaching style will inspire you to break out of your comfort zone and tap into the benefits of working with clients in the sidelying position.
These courses are available in the ABMP Education Center to view and earn CE hours.
Instructor Bio
Allison Denney has been a practicing massage therapist for 20 years. In addition to cultivating a flourishing private practice, she has established herself as an integral part of the massage community through her years as a teacher, her popular YouTube channel, and her launch of the Rebel Massage brand organic, professional-grade Deep Tissue Body Butters. Her passion for client care and fascination with anatomy continue to drive her to never stop growing. Learn more at rebelmassage.com. Listen to Allison's podcast, The Rebel MT, on the ABMP Podcast Network.
Start Learning
The ABMP Education Center, where ABMP members earn free CE, is home to 750+ online massage and bodywork CE hours. These on-demand courses are available for nonmembers to purchase as individual courses or in discounted multicourse packages.