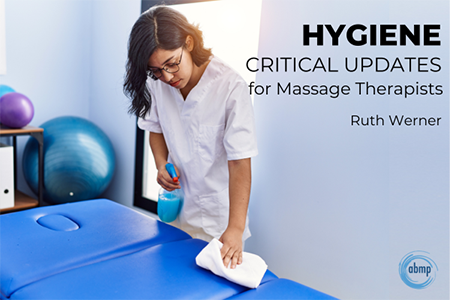 The new ABMP CE course "Hygiene: Critical Updates for Massage Therapists" is now available in the ABMP Education Center to view and earn 1.5 CE hours.
Join pathology expert Ruth Werner as she reviews standard and universal precautions, teaches improved treatment room practices—including sanitation and air quality—and takes an in-depth look at pathogens and infectious diseases. View this course today to update your knowledge on how to create a safe and healthy practice!
After completing this online course, practitioners will be able to:
Describe why hygienic precautions are important.
List the standard/universal precautions.
List additions to standard/universal precautions that are important in massage therapy settings.
Describe the recommended hygienic practices for hand care.
Describe the recommended hygienic practices for laundry care.
Describe the recommended practices for cleaning and sanitizing surfaces.
List the benefits of using an air purifier in a massage therapy treatment room.
Describe the upcoming landscape of infectious disease threats.
List at least three hygienic practices that can be implemented in a treatment setting to enhance client and practitioner safety.
Instructor Bio
Ruth Werner is an award-winning educator, writer, and retired massage therapist with a passionate interest in massage therapy research and the role of bodywork for people who struggle with health. Her groundbreaking textbook, A Massage Therapist's Guide to Pathology, is now in its 7th edition and is published by Books of Discovery. Werner is a columnist for Massage & Bodywork magazine and Massage New Zealand. She teaches continuing education workshops all over the world and hosts the "I Have a Client Who . . ." podcast on the ABMP Podcast Network. Reach her at ruthwerner.com. Learn more from Werner through ABMP's Pocket Pathology quick-reference app with key information on nearly 200 common pathologies.
The ABMP Education Center, where ABMP members earn free CE, is home to 750+ online massage and bodywork CE hours. These on-demand courses are available for nonmembers to purchase as individual courses or in discounted multi-course packages.