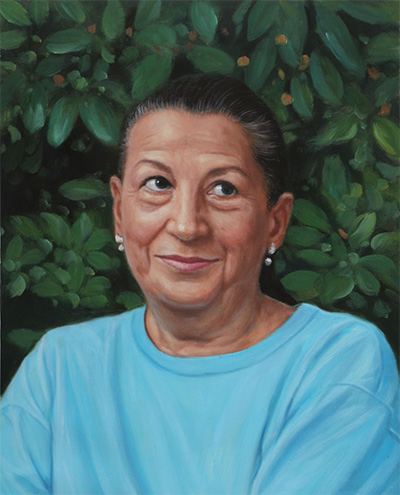 On April 1, 2019, the Los Angeles massage community lost an amazing spirit. Camille "Cami" Sandroni, founder and former director of Hands on Healing Institute School of Massage Therapy, the iconic cylindrical building on Foothill Boulevard in Tujunga (Los Angeles), California, passed away on Monday, April 1, 2019, surrounded by her East Coast family. Her husband, Jim Engelmann, predeceased her.
Cami was born in New York on March 26, 1943. In the 1990s she left a successful career in the cosmetic industry and moved to Los Angeles. Inspired by her father, a doctor of Western medicine who treated his patients with a holistic, mind-body-spirit approach to healing, she opened Hands on Healing Institute in 1998 in the community center of a church, with the mission of training massage therapists to help change the world "one body at a time." A few short years later, she moved the school into its current round tower where it continues to train some of the very best massage therapists in Los Angeles.
Hands on Healing stands apart from other massage schools in L.A. with its affordable tuition, a Saturday morning student clinic offering low-cost massages, and classes in such modalities as myofascial release and aromatherapy, which are not taught anywhere else in the area. Hands on Healing is considered by many, including spa owners, to be the best massage school in Southern California.
When she finally retired at the end of 2017, Cami sold the school to current owners Patty Flanagan, an HHI alumni, and Eloise Albrecht, a long-time teacher at the school.
Here are some kind words from her alumni:
In 2008 I moved to California from Texas and, other than my partner, knew not a soul. With no degree and no business contacts, job hunting was challenging. So I called right away when I saw the ad for an administrative position at the massage school just down the hill from my house and got an interview. The next day, when I walked into Cami's office, it was love at first sight. She got me. I got her. I not only got the job, I got a new friend. My favorite thing about Cami is when we parted, she always said "Love you." She will be missed. ~ SB
I remember Cami's sweet spirit and love for our school and her cute dog, Baby! ~ MFS
When I think of Cami and her sweet soul, I just think of peace and calming. ~ DS
When I was shopping around for a massage school, I stopped in to HHI and met Cami. She was so real. She made me comfortable immediately. She stopped what she was doing and took me on a tour of the facility. It felt personal. I could tell how much love she had for the school, the teachers, the program, etc. It was obvious how much care she had for the students ... I knew I'd be safe here. I knew I'd learn so much more than a scripted set of massage strokes. I knew there was a major door opening for my life. I signed up immediately (even though this school was quite a distance for me to travel on a daily basis) and never regretted a day! It changed the course of my life. And I've been a bodyworker for 10 years now. I give credit to Cami ... Her love, care, concern, and personality brought me to this wonderful school. ~ VS
She was always willing to be of loving service. I remember she was one of the people I was able to practice massage on. She knew instinctively how to be the client and give me a real kind of scenario. She was always a pleasure to work on. ~ MV
Cami was an understated personality—very caring, supportive, and compassionate. Cami was a soldier, devoted to her goals and what was deeply of importance to her. I know that her family, friends, and work were her World. Step by step, she directed Hands on Healing responsibly, wanting to make this life a better place for EVERYONE! She has undeniably touched many, many of our lives. ~ KB
Cami was an amazing person, kindhearted. She was super funny and friendly! ~ MW
Cami not only fostered the mind, body, and spirit in her school with teachings, but also led by example. She helped me through one of my toughest times in life. ~ NL