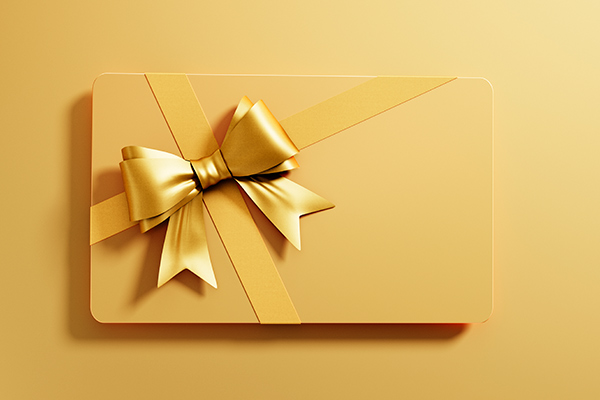 By Karrie Osborn
Massage therapists and bodyworkers often earn a significant piece of their annual income during the holiday season. Products are certainly ripe for the holiday shopper, but it's also important to be ready to meet your clients' needs for massage gift cards and certificates.
In 2020, gift cards and certificates represented a huge portion of the holiday shopping dollars consumers spent. The numbers are expected, yet still astounding: The number of digital gift cards US retailers sold increased 106.1 percent year over year in December 2020.1
Take advantage of this trend and make sure you can solve your clients' holiday shopping problems, whether with paper gift certificates or online e-cards that you or a third-party provider manages. Help your clients give the gift of massage this holiday season.
Massage Gift Certificate Tips From the Experts
Here are some bits of advice when it comes to massage gift cards and certificates:
Don't pay yourself or your staff until the massage gift certificate is redeemed.
Have a separate savings account for massage gift certificate and package sales.
Include obvious links on your website to buy massage gift certificates. Don't make your clients work hard to find a way to make this purchase.
Visibly display your massage gift certificates at your payment counter or front desk, with a sign saying "Massage is a unique and healthy gift. Buy massage gift certificates for your friends and family here."
As the holidays get closer, start asking clients if they need a last-minute gift and reminding them you can make their life easier with a massage gift certificate purchase.
Know the gift card and gift certificate laws in your state.
ABMP Member Gift Certificate Resources
Are you ready to meet client demand? ABMP has some tools to help:
• ABMP members can log in and use ready-made gift certificate templates for any occasion at www.abmp.com/members/marketing-center/bizfit-resources/gift-certificates.
• ABMP members can also utilize their member discount with Thegiftcardcafe.com to sell instant digital gift cards. Log in to your abmp.com account, and go to Discounts to get a code for the best offer: www.abmp.com/members/business-management/discounts-and-resources/discounts#practice-management-and-marketing-tools.
Learn More About Massage Gift Cards and Certificates
For more about gift certificate laws, read the sidebar by Laura Allen at www.massageandbodyworkdigital.com/i/1338685-march-april-2021/78.
While this article offers some good gift certificate information, the entire Mind Your Money series with Allissa Haines and Michael Reynolds is an amazing resource for members. If you haven't checked it out, maybe now is the time.
"Convert Gift Certificates into Repeat Clients" by Karrie Osborn
"How I Learned to Love Gift Certificates," by Eric Brown
"11 Ideas to Sell More Gift Certificates," by Eric Brown
Note
April Berthene, "Digital Gift Card Sales Increase More Than 100% in December," Digital Commerce 360, (February 5, 2021): www.digitalcommerce360.com/2021/02/05/digital-gift-card-sales-increase-more-than-100-in-december.