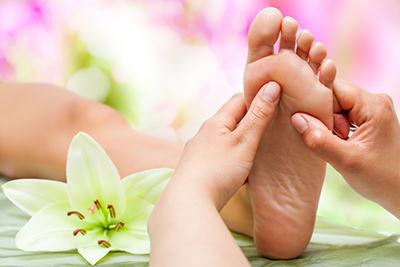 The November/December 2018 issue of Massage & Bodywork featured an article on reflexology, a bodywork modality that works with the body's energy flow to stimulate self-healing and maintain balance in physical function. To provide readers with more information on this modality and where therapists can receive training in reflexology, the three leading reflexology associations in the US graciously provided ABMP with the following article.
Reflexology Association of America (RAA)
RAA, founded in 1995, is a membership association open to reflexologists, reflexology schools, and to those outside the field who wish to support reflexology.
RAA's primary goals include but are not limited to:
Advancing its members' interests and acting as a national referral board for its members
Sponsoring a biennial conference
Encouraging the establishment and development of state reflexology associations that complement the purposes and goals stated herein and invite affiliation
Educating the public on reflexology and its benefits
Membership Levels:
Professional (minimum of 300 hours)
Practitioner (minimum of 200 hours)
Student
School
Supporter
Contact info:
Reflexology Association of America
1809 Rutledge
Madison, WI. 53744-4324
Phone: 608-571-5053
Email: infoRAA@reflexolog y-usa.org
www.reflexology-usa.org
American Reflexology Certification Board (ARCB)
In order to be a profession, every field needs a body of certified practitioners. ARCB was established in 1991 as a national testing agency. In maintaining its independence, ARCB is not affiliated with any school, instructor, business, or association.
Its primary aim is to protect the public by certifying the competency of trained reflexology practitioners through a comprehensive examination process. A second objective is to aid the public in locating ARCB certificants in their area through a national referral directory found on their website.
Contact info:
ARCB
2586 Knightsbridge Rd. SE
Grand Rapids, Michigan 49546
ph: 303-933-6921 / f: 303-904-0460 e-mail: info@arcb.net
www.arcb.net
National Council of Reflexology Educators (NCRE)
NCRE emerged in 2016 with the intention of supporting the needs of reflexology educators. NCRE's mission is to meet the diverse needs of the reflexology educational community by bridging the gap between the individual's desire to teach and evolving standards; and give a voice to experienced teachers and those who provide instructional aids.
Reflexology:
Reflexology as defined by RAA, ARCB, and NCRE: Reflexology is a protocol of manual techniques, such as thumb and finger walking, hook and backup, and rotating on a point, applied to specific areas predominantly on the feet and hands. These techniques stimulate the complex neural pathways linking body systems supporting the body's efforts to function optimally
Reflexology is a specialized discipline utilizing specific techniques that vary from massage
National certification includes a written and practical examination, along with submission of documentations
Reflexology is exempt from massage in 32 states
Looking for schools:
Members of Reflexology Association of America
www.reflexology-usa.org/schools