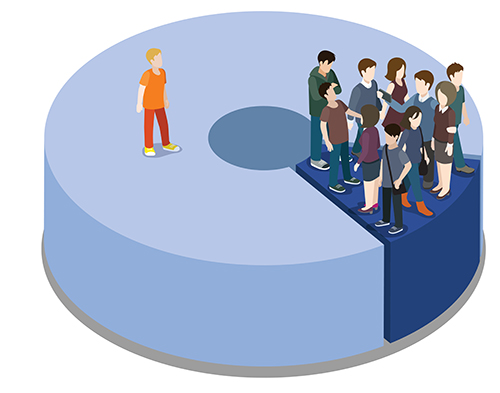 The trend continues, and accelerates: fewer schools, fewer graduates.
The number of massage therapy training programs in the United States is at its lowest since 2003, and the number of graduates from those programs is the lowest since ABMP began conducting the survey in 1998. ABMP's biennial census of massage school programs indicates 28,263 students graduated from massage therapy programs in 2016—a drop of nearly 22 percent from 2014's total of 36,305. The average program graduated just under 26 students per program; this is the lowest recorded average in the history of the census.
ABMP's biennial census of massage school programs was conducted December 2016–January 2017. Representatives from more than 1,100 programs were contacted and asked, "How many students graduated from your primary massage program in 2016?"
The 1,139 initial program contact list was reduced to 1,098 current open massage therapy programs—the lowest total recorded since 2002. More than 800 approved massage programs (76 percent) answered the question. Using state and program-type data, we projected results for the segment of schools for which we did not receive an answer.

Types of Programs and Their Graduates
While the number of programs continues to shrink, the proportions in each broad program category remain relatively constant, along with the proportion of graduates.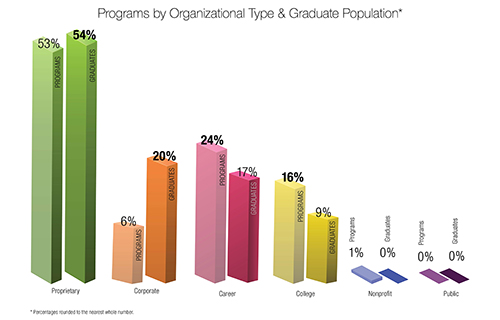 Massage therapy programs that are offered as part of the public school system graduate the fewest students—an average of just 11 per program. These programs, however, represent less than 1 percent of all programs. Corporate programs graduate the most students—an average of 82 per program. These institutions offer massage therapy and spa programs as part of a multicampus, multistate, larger corporate entity. Nearly all these programs are accredited by US-Department-of-Education-recognized accrediting programs, and each campus is counted as a distinct program.
Proprietary programs—meaning owned and operated by an individual or individuals offering massage and sometimes spa programs, typically at a single campus—continue to be the largest category of massage institutions. Programs offered at community or technical colleges represent one-sixth of all programs, but graduate just 9 percent of students.
Career institutions are defined as multiprogram institutions offering many career training programs in addition to massage therapy—typically medical and dental assisting, medical recordkeeping, etc.—and nearly all are accredited by US-Department-of-Education-recognized accrediting programs, either privately held or publicly traded. They now comprise 24 percent of all programs, but graduate just over one-sixth (17 percent). During the peak of program proliferation in 2008, there were 460 career institutions; today, that number is 260.
This information, along with results from ABMP's recent consumer survey regarding massage usage, will be front and center during the 2017 ABMP School Forums in Minneapolis, Minnesota (April 28–29), and Charleston, South Carolina (October 5–6).
Les Sweeney, BCTMB, is president of Associated Bodywork & Massage Professionals. For more information, email les@abmp.com or call 303-679-7612.